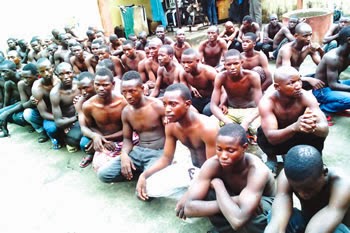 The Cross River Command of the Nigeria Immigration Service (NIS) has received four illegal immigrants who willingly went to the command's office to report that they got entry into Nigeria without valid travelling documents.
Mrs Funke Adeuyi, the State Comptroller of NIS, who said that the victims came to the state command to report themselves on Friday, Dec. 16, added that they were deported from Algeria on Dec. 2.
Adeuyi gave the names of the victims as Manzila Wamy, Ebe Makobe, Mrs.Ebe Kajema and a 9-year-old, Ms. Ebe Kidebwa, all from the Democratic Republic of Congo.
She said that the command had done carried out a massive public enlightenment campaign to ensure that illegal migrants were unable to find their way into the state for any reason.
According to her, the NIS has interrogated the victims and would transfer them to the service headquarters in Abuja, where they will be provided with logistics and necessary documentation to go back to Congo DRC.
She told NAN that during the Christmas period, NIS personnel would ensure that only persons with valid travelling documents and visas were allowed entry into Nigeria.
"Our men at the border patrol posts across the state are well armed to ensure that no illegal migrant is able to enter the state without proper travelling documents.
"A few days ago, we intercepted six Cameroonians who came into the state without valid travelling documents. We have since deported them back to their country.
"During this Christmas period, I wish to advise migrants to always move with their valid travelling documents.
"Life outside one's country of origin is not very rosy; I advise intending migrants to always have their valid papers,'' she said.
Narrating his ordeal, one of the illegal immigrants, Wamy told NAN that he appreciates the kind gesture of the NIS during their stay, saying that they were given free food and shelter.
According to him, they were deported from Algeria on Dec. 2, adding that he was shocked over the development because he and his family had their valid travelling papers while in Algeria.
"The Algerian government had to deport us from their country even when we had our valid travelling documents. Over 1,200 of us were deported by land and that was why we found ourselves in Nigeria.
"We had to locate the NIS office in the state to report ourselves because we had no valid papers to enter Nigeria. We have been linked with our Ambassador and certainly, we will get back to our country safely," he added.