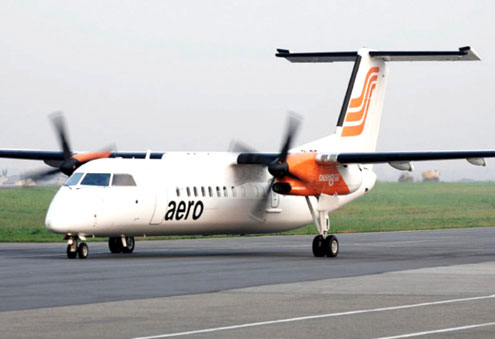 Aero Contractors is yet to resume flights at the Nnamdi Azikiwe International Airport, Abuja, in spite of promise made by the management of the airline that it will soon commence operations.
The News Agency of Nigeria (NAN) check at the airport on Thursday morning saw some members of staff of the airline at the ticketing and reservation stand idle.
One of the staff who pleaded anonymity told NAN that they have yet to receive signal from the head office to commence operations, but however, assured that flight operations would commence soon.
He said that Aero had already commenced operations at Port Harcourt, while other stations were still awaiting signals.
The staff who said he could not explain why the signal had not been received, also said that they have not commenced sales of tickets to passengers.
NAN recalls that Aero had suspended all its scheduled flights since August due to the inability of the airline to raise forex for C-check and D-check of most of its aircraft.
The suspension of flight operations also came with the disengagement of staff of the airline that which led to a face-off with aviation unions.
Meanwhile, the airport recorded low traffic of passengers as the usual rush during yuletide was not there due to the recession and hike in fares.
NAN checks with various airlines revealed that most flights were not fully booked for today, adding that the prices of tickets had been increased across all destinations.
Mr. Abdullahi Saroke, the Station Manager, Azman Air, said the traffic was low compared to the previous year, attributing the situation to the economic recession.
Saroke said that many airlines were not fully booked as against the usual rush that was associated with festive periods, adding that the airlines were struggling to survive the hardship.
He also said that there was about 20 per cent hike in air fares.
"The traffic is very low compared to last year because the country is in recession and you don't expect people to fly by air that much in a country that is in recession.
"In spite that our roads are not too motorable, people have decided to stay away from the airports.
"On an average, the cheapest you can get now from all airlines is N35,000 and above for economy, while business class goes for between N50,000 and N60,000.
"The major challenge has been non-availability of aviation fuel, but thank God that the Federal Government about two days ago brought in about 20 million tons.
"The daily consumption of all airlines is 500,000 liters which means that we will not have the problem of fuel scarcity in the next three weeks or more because that has been the cause of cancellations and delays.
"As at Wednesday, we were buying fuel at N270, but four days ago, we bought it at N320 and by this time last year, we bought the product at between N102 and N110 per litre."