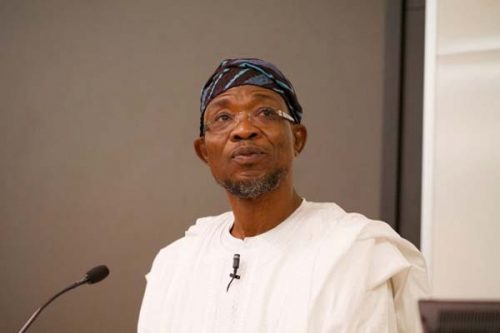 Gov. Rauf Aregbesola of Osun, on Wednesday, presented a budget of N138,232,946,670 for the 2017 fiscal year before the state House of Assembly for consideration.
Presenting the 'Budget of Recovery', on behalf of the governor, the Permanent Secretary, Osun Ministry of Budget and Economic Planning, Mr. Segun Olorunsogo, puts recurrent expenditure at N75,823,942,160.00, representing 54.85 percent of the budget.
He also puts capital expenditure at N62,409,004,510, representing 45.15 percent of the total budget.
The budget also has the recurrent revenue of N105,090,868,130 and capital receipts of N33,142,078,540.00.
Aregbesola said the economic sector, including agriculture, rural development, rural and urban electrification, commerce, industry, finance and transportation would gulp N24,911,168,470 of the total budget.
He also said, the social service sector, including education, health, information and culture, youths, sports and social development would gulp N11,168,089,260 of the budget.
The regional planning and environmental development sector, including water resources, environmental sanitation, housing, town planning, according to him, would gulp N5,315,221,210, while general administration and other services, would gulp N21,014,525,570.
He said the main focus of the budget would be the "provision of an enabling environment that will ensure an increase in food production".
"It focuses on consolidation of social infrastructure that will expand the economic and industrial base of the state; creation of conducive, productive, and active socio-economic environment that ensures job creation and empowerment of youths and women.
"It will also focus on the development of opportunities for wealth creation through tourism and culture; improving basic education infrastructure that promotes functional education and enhancement of the capacity of teachers at all levels", he said.
He said, in the course of implementing the budget, new revenue sources would be pursued, while the existing mechanism of internal revenue generation would be improved on.
He said that the government was determined to leverage on the revenue generating potentials of both formal and informal sectors, and said the government would ensure non-reliance on the revenue from the federal allocation.
He also said the government would ensure blockage of leakages in revenue collection through effective monitoring of collectors by all officials in charge of such collections.
The Speaker, Najeem Salaam said, the estimate would be properly scrutinized to be in line with the needs of the state and its people and do justice to all the budget heads.
Commending the administration of Aregbesola for working hard in formulating policies and programme that would improve the living standard of the people, he said, the Assembly would not be the clog in wheel of progress of the state.
The speaker who stressed that the presentation of the budget has been taken as first reading noted that the estimate would be committed to the Committee of Finance and Appropriation for consideration

Load more