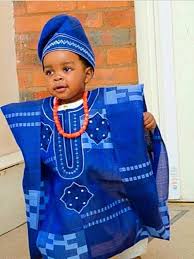 Some parents in the Federal Capital Territory (FCT) have said that buying Christmas clothes for their children is tradition that must be fulfilled at all cost.
The parents, who spoke in separate interviews with the News Agency of Nigeria (NAN) on Thursday, noted that in spite of the economic recession, provision must be made in the family budget to accommodate their children's need.
According to them, you don't need to break a bank to get new clothes for your children to celebrate Christmas.
Mrs Bola Asaolu, a civil servant said buying Christmas clothes for children was a necessity, but must be bought in December.
"Buying Christmas clothes for the children is a necessity if you really want their joy to be full in the special season.
"I buy clothes before December to avoid the usual hike in the price of products this period. This will save you the headache of rush hour.
"Children like to wear new attire for festivities, so you can buy weeks or months before the celebration and keep for them till then to make them happy.
"I was brought up with that practice, and so I have never missed doing it for my children,'' Asaolu said.
Mr Efe Osasere said that getting clothes for the children in special occasions like Christmas was a good idea.
"Buying clothes for the children at the end of the year to me is like appreciating them for being wonderful, understanding and considerate all through the year.
"It is a way to say thank you for all the errands and services they rendered. It mustn't be expensive.
"Even though you must have bought them clothes during the course of the year,'' Osasere said.
Mrs Ononeze Onuoha said that it was a tradition that goes with the Christmas fancy.
"I came from a home where clothes/shoes are bought as at when required irrespective of the time of the year.
"I could remember not doing it for some time, but what I experienced with my children was not good. So I didn't need anyone to tell me to go back to the basics.
"To be honest, I did not have anybody around me that had new clothes just for Christmas, though I always hear people talk about Christmas cloth.
"I had wanted not to raise my kids with the "expect a gift'' thing. It's not happening as I want because of their father's family belief.
"It is now compulsory and becoming difficult to stop. Please let's correct the impression that children must get new clothes every Christmas.
"To me, Christmas is more about sharing and giving those things that money cannot buy rather than clothes,'' Onuoha said.
Mrs Aramide Ajade said she buys her children clothes, but was not compelled to do so.
According to her, if I have money I buy, I don't follow the trend.
"I hate the ridiculously materialistic view some people have. Yes it is our job to buy clothes, but buying every Christmas is a luxury.''