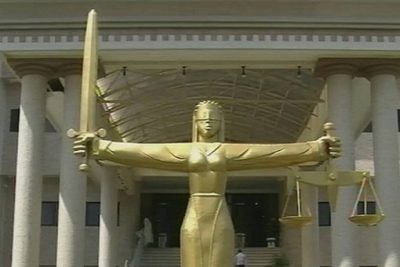 A Gudu Upper Area Court, Abuja, on Thursday sentenced four men to five months imprisonment each for robbery.
The convicts: Habib Ibrahim,22, Buhari Nasiru, 21, Salisu Adamu,25, and Nasiru Ruffai, 21, were all convicted after they pleaded guilty to a two-count charge of criminal conspiracy and robbery.
The judge, Mr. Umar Kagarko, however, gave the convicts an option of N40,000 fine each.
In his plea for leniency, their counsel, Oluwadamilola Olaofe, said they were first-time offenders and that they were remorseful.
In addition, the judge ordered that the recovered stolen items be returned to the rightful owners within 30 days.
Earlier, the prosecutor, Mr. Joshua Ayanna, told the court that a team of policemen on surveillance from Apo Division Police Station arrested the convicts on Oct. 26.
Ayanna said that the team, led by Sgt. Bulus Jidai, acted on a tip-off.
He also said that upon their arrest, one Gulf II salon car with reg. no. AGL 527 AF, a Gionee phone, Asus laptop, Nokia phone and a black bag were recovered from the convicts.
"During the investigation, it was discovered that they robbed the house of one Mohammed Mustapha of Plot 16/17B Democracy Avenue, Gaduwa Estate, Durumi in the FCT.
"The value of the items listed are not yet ascertained and cash of N100,000 is yet to be recovered from them,'' Ayanna said.
He also said that the convicts all confessed to have committed the offence.
The prosecutor said that the offences were contrary to Sections 97 and 298 of the Penal Code.