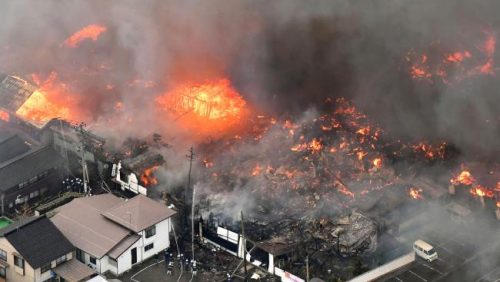 A wind-fanned fire engulfed 140 buildings in central Japan on Thursday with hundreds of residents advised to evacuate their homes, local media reported.
The Niigata prefectural government called on the military to dispatch troops to help contain the fire in Itoigawa City on the Sea of Japan coast, 250 kilometers northwest of Tokyo.
The media report said that two people were injured after the fire broke out in a restaurant at around 10:30 am (0130 GMT) and spread quickly, enveloping about 140 buildings.
The city issued an evacuation advisory to 740 people as firefighters were battling the raging blaze.
"I'm astonished to see the fire spread so quickly.
"I first thought one or two houses would be burned in the fire,'' a witness told newsmen.

Load more