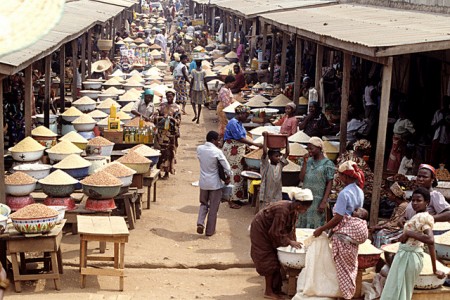 Few days to Christmas, traders in Abeokuta on Thursday decried low patronage, which they attributed to the current economic recession in the country.
The News Agency of Nigeria (NAN) correspondent, who visited some markets in Abeokuta, discovered that prices of food items and clothing had increased as most of the traders complained of low patronage.
Mr. Chukwudi Opara, a trader, who sells foodstuffs in Kuto Market, said that the increase in the price of bag of rice was due to the ban on the importation of rice.
"The price of a 50kg bag of rice ranges from N15,000 to N18,500 and it's so unfortunate we have been having low patronage compared to what we had during Easter period.
"Last year's Christmas, a bag of rice was sold for between N8,000 and N9,000 depending on the size of the bag.
"We are selling a bag of beans for N27,000 while it was sold for around N22,000 last year.
"The patronage has been so low but we heard that the state government has promised to pay the civil servants all their outstanding salaries and deductions before Christmas.
"This development will surely bring more money to the state and it will help our sales," he said.
Mrs. Rukayat Boluwatife, a tomato seller, said that there was surplus tomatoes now in the market.
According to her, a big basket of tomatoes goes for N8,000, the small basket N3,000 while the medium is N5,000.
She attributed the high cost to lack of enough money in circulation and high cost of transportation.
"A basket of pepper "ata rodo" is sold for N7,000 while the half is N3,500," she said.
Alhaja Ramota Liadi, a vegetable oil seller in Lafenwa Market says 25 liters keg of Kings oil is N15,000 while it was sold for N12,000 few months ago.
"Also, 25 liters keg of palm oil is N22,000 and the price always ranges from N15,000 to N18,000 before now, " she said.
Mr. John Lewis, who sells chickens in Omida market, said that a chicken was going for between N3,000 and N4,000 depending on the size.
He said that people preferred to buy frozen chicken because of its quantity and price, adding, "this is really affecting our business".
"It is not our fault that the chickens are expensive but prices of chicken feeds are now very expensive.
"We sell a carton of Turkey for N10, 000, before now it was N8, 500 and the patronage has been so low," he said.
Alhaja Toheebat Muniru, a cloth seller in Itoku Market, lamented that people preferred to buy readymade clothes than taking their clothes to the tailors.
Muniru said that she had been experiencing low sales because of the current economic downturn in the country.
"Customers are not coming except for those who want to buy bundles for parties, we are not happy with the present situation.
"We beg the government at the top to do something to ease the pain of Nigerian because it will definitely reduce crimes in our society," she said.

Load more