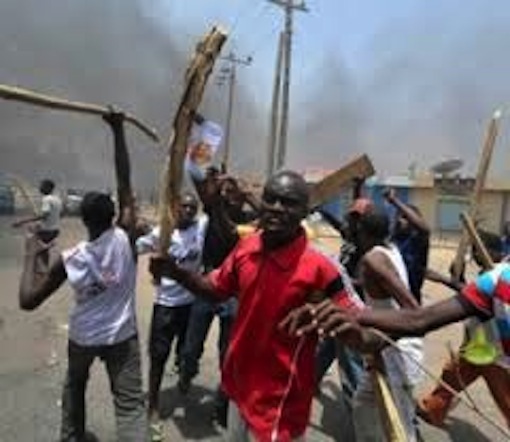 Youths in Mangu on Thursday staged a protest over the blockage of highways by security agencies in Mangu Local Government Area of Plateau.
The News Agency of Nigeria (NAN) reports that the youths led by their leader and spokesman, Mr. Matthew Kwarpo, marched to the Palace of the Paramount Ruler of Mangu, Chief John Hirse.
The youths, who were in their hundreds, marched through the single road in Mangu town chanting "We no go gree o", "Enough is enough of their harassment".
At the Palace, Kwarpo told the District Head that they were in his office to intimate him of their displeasure over the activities of the security agents in the council in recent times.
"Sir, we are here to register our displeasure with the way and manner security agents maltreat motorists and commuters on our highways, especially in Mangu and Panyam.
"It is a common trend in Panyam and Mangu checkpoints where motorists and commuters are unnecessarily delayed on their journeys without any just cause.
"We hereby announce to your hearing sir, that we are giving them (security agents) two weeks within which to change their mode of operations on our highways or take another action," they warned.
The youths pleaded with the paramount ruler to prevail on the security operatives to stop harassing motorists and commuters forthwith for the prevailing peace in the council to continue.
Responding, Hirse assured them of his resolve to meet with the heads of the security operatives toward addressing their grievances.
"It will be wrong if the people tasked with the responsibility of keeping the peace of the area are seen to be the very ones scuttling it," Hirse said.
Mr. Titus Bise, the Management Committee Chairman, Mangu Local Government, commended the youths for conducting themselves peacefully.
Bise advised them to resist any temptation to use violence while urging them to remain peaceful and committed to the cause of development of the council.
He assured them of the council's readiness to meet with the security heads to allow for free flow of traffic within the council.
He said that their presence was indeed welcomed and appealed to them not to constitute a threat to peace.
Capt. Umar Adams, Spokesman, Operation Safe Haven, Plateau Command, said "this is Christmas season which demands our officers taking extra precaution at ensuring that the peace recorded in the state is not breached."
"We are surprised at the action of the youths because what we are doing at the checkpoints is in their interest because they won't like a situation where criminals are terrorizing their communities.
"They will agree with us that it is at times like this that miscreants will try to take advantage of the festivity to cause havoc to some communities, which we must do our best to stop," Adams said.
The spokesman appealed for understanding with the security operatives and their cooperation to ensure that the peace in council and the state was not breached.

Load more