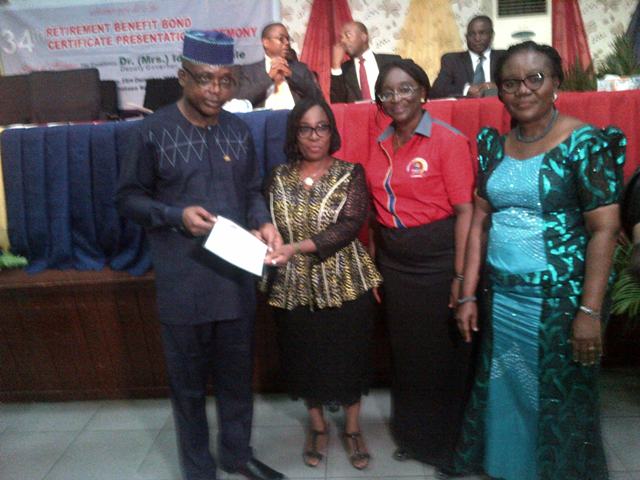 The Lagos State Government on Friday paid the sum of N1.9 billion to 495 retirees from the state public service as their pensions right under the Contributory Pension Scheme, CPS.
The retirees were issued bond certificates by the Commissioner for Establishments, Training and Pension, Dr. Benson Oke at the 34th Retirement Benefit Bond Certificate Presentation organised by the Lagos State Pensions Commission, LASPEC, at the NECA House, Ikeja, Lagos, Southwest Nigeria.
Oke also disclosed that between August 2015 and November 2016, the government paid N21.929 billion to 5,025 retirees and that as at November 2016, the accrued pension rights of about N55.941 billion had been paid to 12,426 retirees by the state government since the commencement of payment of entitlements in the CPS dispensation.
"The state government is also very much committed to the regular contribution of the monthly deduction of 7.5 percent from the salary of every employee and the employer's 7.5 percent. As at October 2016, the total contributions remitted to the PFAs from April 2007 to date is over N75 billion.
"In essence, Lagos State Government's funding of employees' pension rights under the Contributory Pension Scheme in a period of nine years is approximately N132.841 billion," he said.
Director General, LASPEC, Mrs Folashade Onanuga said the state government, through the Commission had also paid the insurance benefit to beneficiaries of deceased employees, worth over N114 million and that another N56.1 million death benefit would be paid at the ceremony, which the total of the money paid as death benefits to N170 million.
"The insured death of 320% of the terminal salary of a deceased staff is designed by Law to be paid to alleviate the immediate needs of the family members left behind. The Estate of a deceased staff is also entitled to receive the balance in the retirement account and accrued rights due, if the employee had joined service before the commencement of the CPS.
"This feat is a clear indication that Contributory Pension Scheme is working perfectly well in Lagos State. I want to enjoin all beneficiaries to take very good care of their health, as well as desist from frivolous spending. Do not desire quick gains that would make you fall victims of fraudsters," she said.
-Kazeem Ugbodaga

Load more