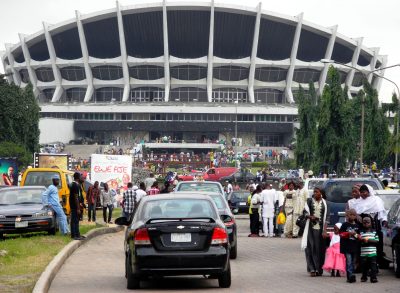 Fun seekers on Monday thronged the National Theatre Complex, Iganmu, Lagos to celebrate the Boxing Day with their families and friends.
The fun seekers were seen wining and dining and participating in different types of games.
Boxing Day is a day celebrated after Christmas Day, marked every December 26.
It originated in the United Kingdom, and is celebrated in a number of countries that previously belonged to the British Empire.
One of the fun seekers, Mr Tunji Kasali, disclosed that he enjoyed himself on the Christmas Day, adding that he came back for a repeat of the merriment.
"I have a lot of fun yesterday; that is why I came back to continue from where I stopped," Kasali said.
Also, Mrs Bukola Onilenla, who came for relaxation with her husband, expressed satisfaction with the activities available for fun seekers at the theatre complex.
"I am here to watch a movie and for my kids to experience the fun of having horse ride.
"So far, everything has been going on smoothly, no harassment or threat by the hoodlums," Onienla said.
She said she was thrilled by her experience and would visit the theatre complex again.
"My impression and perception about the National Theatre has changed now.
"Initially, I looked at it as unsafe place due to the rumours we heard about hoodlums roaming the place, especially during festive seasons," she said.
A student, David Adepoju, also expressed joy about the public holiday, but decried the absence of Rosellas Amusement Parks, the organiser of leisure activities at the premises.
In his remarks, Miss Iyabo Adefila, said, "I have fun all through, but I still missed Rosellas because of the games we played when they were here two years ago."
Adefila appealed to the management of the National Theatre to bring back Rosellas or any other organiser of leisure activities to spice-up events lined up for the festive periods.
The food vendors within the National Theatre premises had good patronage.
One of the vendors, Mrs Kafayat Odunlami, said, "I enjoyed huge patronage as many visitors have been coming to my shop to eat and drink."