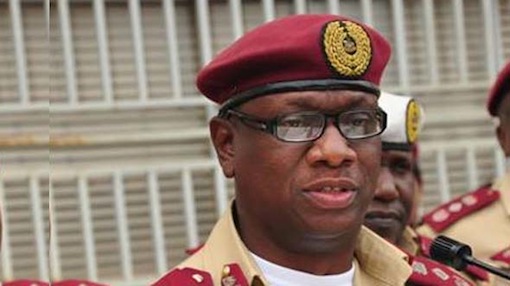 The Federal Government has been charged to provide adequate support to the Federal Road Safety Corps, FRSC in its bid to enforce speed limit on the nation's highways to curb rising wave of accidents.
A group, Movement Against Road Accidents, MARA, gave the charge in Lagos on Wednesday, saying the move to enforce speed limit on the nation's highways by the FRSC would surely help in mitigating the impact of motor accidents in the country.
National Coordinator, MARA, Shola Olaleye in a statement said the introduction of speed limit device represented a bold and effective step ever taken by the commission to ensure that sanity returned to the nation's roads and that the rising excesses of motorists on the road was effectively curtailed.
"We call on the Federal Government to further give the commission the necessary support and backing needed for its jobs so as to save road users and reduce deaths through road accidents in Nigeria. Transport associations and unions, including fleet owners and private transport companies should ensure total cooperation with the commission to ensure that maximum success is recorded on the device," he said.
Olaleye, however, said the movement was disturbed by the rise in the number of miscreants, lawless and untrained young men who drive commercial buses across the nation highways, saying that in the light of this, the movement had concluded arrangement to stage its maiden and first road safety seminar in collaboration with the FRSC, Federal Ministry of Transportation, transport associations and unions and various stakeholders.
He said the seminar is targeted at field officers of various transport associations and unions in the country together with the tricycle operators and okada riders, while the objective of the seminar was to create a channel where safety agents among the unions would emerge and take up the responsibility of monitoring and sensitizing drivers and commuters at various garages and motor parks.
Olaleye stated that the seminar became unavoidable due to dire need to make issues of road safety sensitization and campaign a constant, aggressive and regular one.
"This is because of recent available data which shows that the rate of accidents during ember months has drastically reduced while most terrible carnage and deaths are recorded during early months of the year to September of each year.
"The strategy is to form a strong collaboration with various stakeholders for the crusade to save the lives of road users in Nigeria and discontinue the usual practice of celebrating road safety campaigns, the result of which is yearly awakening during the ember months," he said.