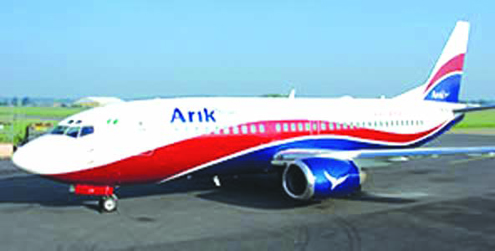 Arik Air on Wednesday said it has chartered a B767-300ER aircraft to minimise the disruption and inconveniences caused passengers on its Lagos-New York route.
The airline also announced the resumption of flight to the American city from Thursday.
Mr Ola Adebanji, the airline's head of communications revealed this in Lagos, while also regretting that the chartered plane could not fly on Tuesday due to the closure of Lagos airspace for several hours because of bad weather
He said the airline decided to charter the aircraft following the damage to its A330-200 aircraft by a ground handling company at JFK International Airport, New York, a few days ago.
He noted that this arrangement was put in place to cover for the period until the return to service of its A330-200 aircraft on Dec. 28.
"The Lagos-New York flight which was scheduled to be operated by the charter company and depart Lagos on Tuesday, Dec. 27, at 11am, could not operate due to poor visibility."
Adebanji said despite repeated appeals to the charter operator to operate the next fight, they insisted on positioning their crew and aircraft back to Europe on Dec. 28.
"Arik Air immediately commenced the ferry back of its A330-200 aircraft from New York to Lagos on Wednesday and this aircraft is expected to arrive Lagos on Thursday at 02:45am.
"Passengers originally booked on Arik Air's flight W3 107 on Tuesday from Lagos to New York JFK will now be accommodated to travel on Thursday by 6:00am," he said.
Adebanji said while the negotiations went on with the charter operator, Arik Air was reviewing available alternative options.
He said despite the explanation it was unfortunate that some of the New York bound passengers on Wednesday prevented the airline from checking in passengers booked for other destinations resulting in significant delays and cancellations of some flights.
These passengers, he further explained, also delayed the check-in of Lagos-London Heathrow flight of Wednesday despite making them aware that London Heathrow airport enforces a night curfew and the consequential impact on other passengers of such unlawful disruptions.
He said the airline did not receive any assistance from the Aviation Security (AVSEC) department of the Federal Airport Authority of Nigeria (FAAN) to contain the disruptive passengers and ensure they acted in an orderly and civilised manner.
Adebanji appealed for the understanding of passengers booked on the Lagos-New York service, assuring them that regular operations will be normalised from Thursday.

Load more