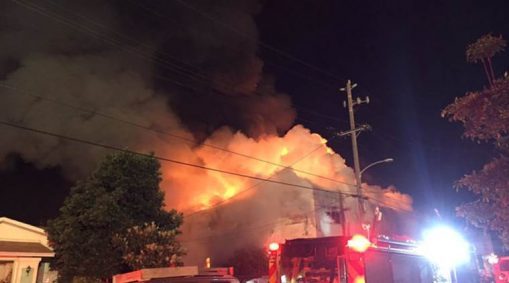 Residents on Wednesday at Akenfa, a suburb of Yenagoa, in Bayelsa State, promptly responded to a fire outbreak at a petrol station before the arrival of Fire Service.
The News Agency of Nigeria (NAN) reports that the inferno destroyed properties worth millions of naira at the fuel station; Millomi and Sons Enterprises Nigeria Limited.
It was gathered that the fire started from the generator house behind the building.
No life was lost in the incident even as the filling station was not dispensing fuel when the accident occurred.
Several policemen from Akenfa Division were seen drafted to the scene of the fire incident to maintain law and order.
An eyewitness Mr Emmanuel Stanley said that some youths from the area equally mobilized to put out the raging fire.
He said that they used water mixed with detergent as well as sand to put out the fire before men of the Bayelsa State Fire Service arrived at the petrol station.
"When we came here, they told us that the fire started from the generator house. we tried to stop the fire when we came.
"We used water, detergent and sand to quench it. Individually, we tried to call fire service before they came'', Stanley said.
The Managing Director of the filling station, Mr Godwin Tuma, said he was in his office within the filling station building when the fire broke out.
Tuma said that he did not know what caused the fire.
Tuma, who commended members of the public for rushing out to help put out the fire, confirmed that no casualty was recorded in the fire incident.