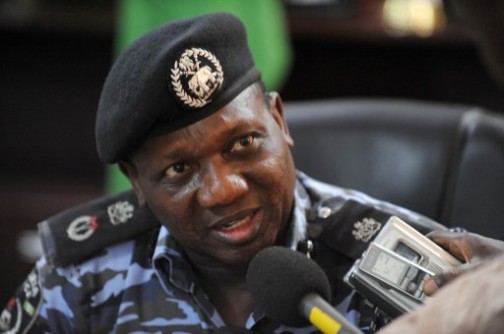 The Nigeria Police in Lagos State, on Thursday said three more buildings housing 81 police families would be pulled down at the Highway Police Barracks, Ikeja due to structural defects.
Mr Maigari Dikko, the Deputy Inspector-General of Police (DIG), in charge of Works disclosed the plan to newsmen while inspecting a building that collapsed in same barrack where two persons lost their lives.
A Sergeant and a civilian lost their lives on Christmas Day when part of the toilet collapsed while they bathed.
That building was later pull down on the instruction of the Commissioner of Police in Lagos State, Mr Fatai Owoseni.
The DIG works said he was instructed by the Inspector-General of Police Ibrahim Idris to visit the scene of incident and also to commiserate with the families of those that lost their lives.
"We have told some of them to vacate the buildings. The buildings are defective; they have been served quit notice to leave for a long time.
"We have asked Commissioner of Police in charge of Lagos command and the works department to enforce the relocation. We do not want a repeat of the incident in the barracks.
"The officers affected are not being evicted. They are asked to relocate for obvious reason of safety.
"Prevention is better than cure. The force headquarter is not sitting idle.
"We are working out a plan for a better rehabilitation of all defective buildings in all barracks across the nation. We are going to use our professionals to carry out the works.
"We are using direct labour to rehabilitate police barracks. The project will commence as soon as the government releases the needed fund'', Dikko said.
The DIG said that all police officers affected would be given lodging allowance for relocation as soon as the government released the fund.
"That is the best we can do for them; we will not just throw them out, we will ensure they have something to relocate", he added.
Some of the officers affected, who spoke with NAN on condition of anonymity, were happy about the promise of lodging allowance for their relocation.
"We will be happy if we have money to move to another accommodation. We are not against the rehabilitation plan of the force.
"We will also be happy to be re-allocated our apartments after the rehabilitation because barrack is safer for our families'', they stated.
Each block of the two storey buildings accommodated 27 police families of rank and file, and some ASPs.
The Assistant Inspector-General of Police Zone 2, Mr Kayode Aderanti and Commissioner of Police in Lagos State, Fatai Owoseni accompanied the DIG on the inspection.

Load more