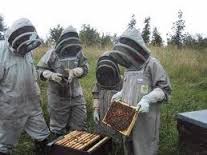 Women in bee farming (apiculture) have appealed to government at all levels to encourage and support bee farming to attract more entrants in the business.
Mrs Obianuju Okpo, the President, Women in Beekeeping, Nigeria, made the appeal in Abuja on Friday.
She said the support would empower and sensitise more women to join the beekeeping business and create a better livelihood for families in the country.
Okpo noted that the business was capable of creating jobs, generating more income for women and boosting the economy of the country.
According to her, there is so much money in honey and pollination services.
"We have 2,600 women currently in bee keeping business across the country, but we want more of them to join.
"A woman that is involved in modern beekeeping can earn about 500 dollars per hive annually, so when you have more than 20 hives, you can imagine what you will make in a year.
"We are appealing to governors to launch and support apiculture (bee-farming) in their states to adequately sensitise women about the business.
"People want to learn the good ways of doing apiculture and women will be empowered through this to come into the terrain of men because men are usually big players in apiculture,'' the president said.
She said that there was ready market for clean and pure honey in the country.
Okpo expressed regret that some bee farmers were involved in the adulteration of honey and some other bee derivatives in the country.
The president, who advised the perpetrators of the act to desist from it, suggested the practice of modern bee farming to make more money from the business.
"If people learn the right and modern ways of farming bees, they will find out that they will make more money without adulteration,''.
Load more