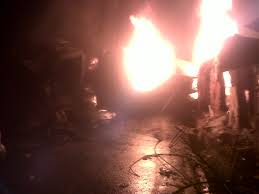 Tragedy struck on Tuesday night in Sokoto when a couple and their one-year old son reportedly lost their lives in an inferno at the Gandu area, in the Sokoto-North Local Government Area of Sokoto State.
The Director-General of the State Fire Service Department, Alhaji Ibrahim Dingyadi, confirmed the incident in Sokoto on Friday.
Dingyadi said: "The unfortunate incident actually resulted in the death of the couple and their son.
"The fire was said to have been caused by an electrical fault and the deceased husband's attempt to save his wife and son proved futile.
"All three of them reportedly died as a result of smoke inhalation."
Dingyadi lamented that the incident was aggravated by the inability of the Department's fire engines to gain access to the scene of the fire, due to the blockage of the access road by some buildings.
The three deceased persons had since been buried according to Islamic rites.

Load more