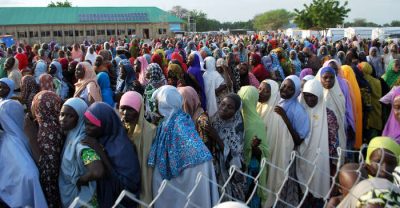 The House of Representatives Committee Chairman on Internally Displaced Persons (IDPs) has urged the Federal Government to come up with its contingency plan for displaced persons from the liberated Sambisa forest.
The Chairman of the committee, Alhaji Sani Zoro, spoke with newsmen in Dutse on Friday on the captured Sambisa forest by Nigerian military.
Zoro said the Federal Government should expect a floodgate of IDPs and other forms of crises that characterised a war situation of this nature.
He said IDPs that would emerge as a result of the captured territories would be mostly children and women who had suffered from squalor and malnutrition while in the forest.
According to him, quite number of them have lost their means of livelihood hence the need for government to come up with emergency interventions to take care of them.
"Those rescued from liberated territories have no money to buy food, clothing and even sanitary pads for women in particular," he said.
The chairman, therefore, advised government to introduce special allowances that would be paid to such IDPs either weekly, fortnightly or monthly to cushion their sufferings.
Zoro said that what such IDPs need now was stabilisation as stipulated in Internal Displacement law before providing durable solutions to their problems.
He commended Nigerian Armed forces for their gallantry in recovering the territories from insurgents.
He also lauded President Muhammadu Buhari for his good leadership that led to the capture and recovery of chunk of land in Sambisa forest, and described the success as a major victory for the nation.

Load more