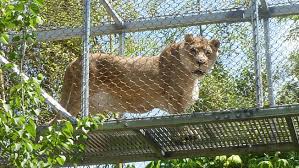 The Philadelphia Zoo has euthanised a 25-year-old lioness believed to have been the oldest lion in the United States after the animal suffered acute decline in mobility and behaviour, media reports on Saturday.
Lioness Zenda, born at the Johannesburg Zoo in 1991, arrived in Philadelphia in 1993 and became a fan favorite over the years, the Philadelphia Zoo said in a statement.
The statement quoted Dr Andy Baker, the Chief Operating Officer at the Philadelphia Zoo as saying "this remarkable cat will be missed by staff and guests alike, particularly by the keepers who catered to her changing needs as she grew old."
The typical life expectancy of lions in zoos is 17 years, the zoo said.

Load more