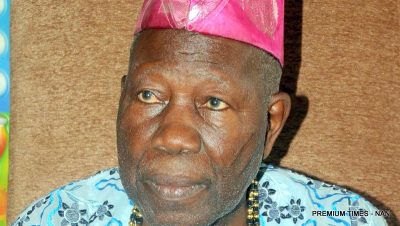 Market traders in Ibadan, the Oyo State capital, are currently at war over the removal of Iyaloja of Ibadanland, Chief Labake Lawal.
While Lawal is insisting that she remained the Iyaloja of Ibadanland, Alhaji Dauda Oladepo, the president of the traders' association, said Lawal was unanimously removed by congress at the group's meeting.
But Lawal said that it was only the Olubadan of Ibadanland that has the authority to remove her.
She stated that she still enjoyed the support of the Olubadan and threatened to sue the traders over what she considered her illegal removal.
"As far as I am concerned, I am still the Iyaloja of Ibadanland and I have contacted my lawyer to sue anyone who takes any contrary action," she said.
Commenting on the feud between the traders, Mr Adeola Oloko, the media aide to the Olubadan of Ibadanland, Oba Saliu Adetunji, said the reported removal of the Iyaloja of Ibadanland, Chief Labake Lawal, had yet to be formally presented to the traditional ruler.
Oloko disclosed in Ibadan on Monday that the formal process of removing the Iyaloja was consequently yet to be completed.
He said that the monarch had the authority to ratify both the deposed Iyaloja and the new candidate as presented by the traders' association through the Iyalode of Ibadanland, Alhaja Aminat Abiodun.
Explaining the formal process, Oloko said that the association would brief the Iyalode of Ibadanland of their decision to remove an Iyaloja, and she would in turn brief the monarch about the development.
He said that the Iyalode was responsible for vetting the process of removal and recommendation of a new candidate for presentation to the Olubadan for ratification.
Oloko declared that the process was yet to be completed until the ratification by the Olubadan.
Mixed reactions had trailed the removal of Lawal over allegations of fraud and high handedness.
The traders at their recent congress told newsmen that the Olubadan had ratified the removal of Lawal as Iyaloja.
Olubadan was reported to have told the traders at a meeting on Nov. 28, 2016 that he only has the authority to ratify removal and appointment of a new Iyaloja of Ibadanland.
The monarch was quoted to have said at the meeting that affairs concerning traders were under the purview of the Iyalode of Ibadanland at the Olubadan-in-Council.
The Iyalode of Ibadanland, after the meeting, told the traders that the choice of a new Iyaloja was theirs and the ratification would come from the monarch.
She urged the traders to take a decision on the matter for ratification by the monarch.

Load more