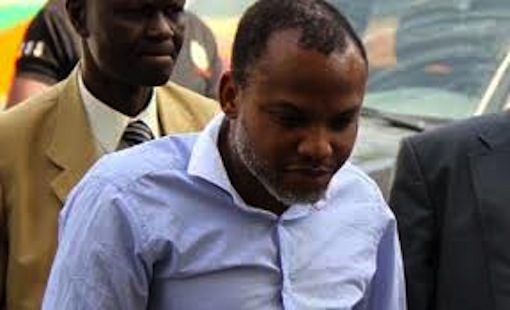 The Archbishop of Anglican Diocese of Enugu, Most Rev. Emmanuel Chukwuma, has implored the Federal Government to release the detained Biafran activist, Mr Nnamdi Kanu.
Chukwuma made the appeal in Enugu on Tuesday. He said that some leaders of the zone had expressed the need to release the leader of the Indigenous People of Biafra.
The archbishop assured the government that leaders and elders in the South East were ready to contain Kanu and his group to bring lasting peace to the country.
"We continue to say it that Mr President should grant amnesty to Nnamdi Kanu at this time around for peace to reign.
"The continual detention of Kanu will continue to bring agitations and tension in Nigeria; I have said it before that this must be doused by releasing Kanu.
"We, Igbos and we Christians are ready to put him under control. There should be no fear at all.
"The President and people in government should not be afraid.
"We have said it even to the Sultan when he visited Enugu that it is injustice for a court to declare him innocent and still detain him.
"Nnamdi Kanu is not a threat to Nigeria, rather they should use his ideas to develop Nigeria,'' he said.
Chukwuma, a member of the South East Elders Forum, also urged the Federal Government to continue to create an all-inclusive government.
"This will give all zones fair and equal representation in the nation's development and progress,'' he said.

Load more