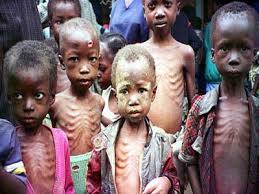 Mr Ubah Nnaemeka, the Project Officer, Civil Society Scaling-up Nutrition in Nigeria (CS-SUNN), on Tuesday said malnutrition accounts for the death of 2,300 Nigerian children daily.
Nnaemeka made this known on Tuesday in Ilorin at a two-day Advocacy Skills and Strategic training organised for members of the organisation in Kwara.
Quoting the National Demographic and Health Survey of 2013, he also said that only 17 per cent of mothers in Nigeria breastfeed their children.
He listed three indicators of malnutrition as over-nutrition, under-nutrition and micronutrient deficiency.
According to him, if nothing positive is done to stem the rate; there is possibility that malnutrition may claim more lives of children.
He said that globally, out of a population of seven billion, no fewer than two billion were suffering from micro-nutrient malnutrition.
"Out of the five billion adult worldwide, nearly two billion are overweight or obese with one in every 12 person having type II diabetes," Nnaemeka said.
He said that malnutrition has the ability of sapping intelligence from childhood and by extension, compromising the future of Nigerian leaders.
The project officer said at present, Nigeria accounts for 11 per cent of the total global under-five deaths, with 37 per cent of children under the age of five stunted.
Earlier, Dr Uthman Mubashir, the Chairman, CS-SUNN Local Working Group, said that the organisation was concerned with the nutrition of women and children.
He described malnutrition as a collective problem that needs collective response from all stakeholders.
Mubashir called for a strong voice by policy makers to create the desired change in the country in respect of malnutrition.

Load more