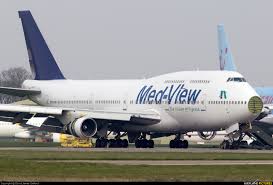 Medview Airline said it delivered the last batch of the delayed passengers' baggage on its London-Lagos route on Monday.
Mr. Obuke Oyibhota, the media consultant to the airline, disclosed this in a statement obtained by the News Agency of Nigeria (NAN) on Tuesday in Lagos.
The airline advised passengers, who were yet to collect their baggage, to do so by visiting the 'D Wing' of the arrival hall at the Murtala Muhammed International Airport, Lagos.
Medview Airline and the passengers' ordeal started on Dec. 19 when Gatwick Airport closed its main runway for maintenance.
According to the statement, the airport authorities asked the Medview to use a shorter runway, but since the aircraft load was heavier, it could not use that runway with the weight and the baggage were, therefore, offloaded.
"Since then the airline has been doing everything possible to resolve the situation, including entering into an alliance with the British Airways that finally delivered the baggage.
"It said the baggage arrived in three batches from Dec. 31, 2016, to Jan. 2,'' the statement read in part.
Prior to the delivery, the airline had on Friday night, sent SMS to all the affected passengers, telling them to check the tag numbers of the baggage that had arrived on its Website.
The statement quoted the Chief Executive Officer of Medview Airline, Alhaji Muneer Bankole, as saying that the airline and passengers' ordeal over the baggage was over.
He thanked the affected passengers for their understanding and reaffirmed the airline's commitment to providing them quality services.

Load more