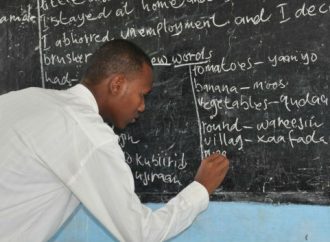 Gov. Aminu Tambuwal of Sokoto State says the state government will conduct proficiency test for teachers working in public schools.
The governor made this known at a meeting with the Chairman of the state's Committee on Emergency in Education, Prof. Riskuwa Shehu.
The governor's Spokesman, Malam Imam Imam, noted in a statement on Tuesday in Sokoto that the committee was expected to present a report to the government on needs assessment of schools conducted in November last year.
Imam stated that the proficiency test was aimed at ensuring that the knowledge base of the teachers met required standards, while their postings matched their qualifications.
He added that "the test will also improve our database on the number of teachers in public service which will, in turn, be used to harmonize records available with different agencies and departments of government.
"This is also part of measures taken under the emergency on the education initiative to shore up standards.
"However, this does not mean that those who may fall below the required standard after the test will be sacked.
"Alternatively, we will redeploy them to other sectors befitting of their qualifications and expertise.
"Government will continue to benefit from their services as to the terms of their employments.''
The spokesman noted that Gov. Tambuwal had vowed to leave no stone unturned in uplifting the standard of the education sector in the state.
Imam quoted the governor as reiterating his commitment to adequately fund the sector at all levels, adding that "that is why even in 2017, education retained the highest allocation in our budget.
"Our thinking is that no amount of money allocated to the education sector is too much and we will not waver in this direction.''

Load more