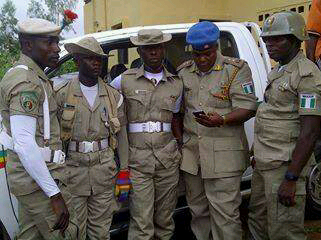 The Commandant-General, Peace Corps of Nigeria (PCN), Dickson Akor, has said that the organization will generate 800,000 jobs for youths in the country.
Akor, who made this known at a news briefing at his residence in Ogoli-Ugboju, Oturkpo Local Government Area on Wednesday, said the Corp was one of the best channels to engage Nigerian youths.
He, however, said that this would be made possible when the bill establishing the PCN was assented to by President Muhammadu Buhari.
The bill, sponsored by Senate Leader, Mohammed Ali Ndume (APC-Borno), was first read at the plenary on March 10, 2016 and scaled second reading.
It seeks to facilitate peace volunteerism, community service, neighbourhood watch and nation building.
The bill will also facilitate the training of youths to advance the course of peacebuilding and conflict transformation.
It will engage peace education, mediation and conflict resolution among warring groups or communities where there are crisis in Nigeria to advance its course.
"President Buhari and the Nigerian Army under the Chief of Army Staff, Lt.-Gen. Tukur Buratai must be commended for their efforts in capturing Sambisa Forest.
"While I canvas support for the security agencies to engender peace and social order, however, the corps is strategically placed to complement the activities of security agencies," Akor said.
Akor said the corps would be saddled with voluntarism and neighbourhood watch activities in different communities across the country.
He called on Nigerians to learn to live together for peaceful coexistence in 2017.
He said the corps had formations and offices in virtually every state and local government in the country, and described it as one of the best channels to engage youths.
The PCN boss said that he constructed a state-of-the-art police station with closed circuit television and other equipment for the police in his community due to the threatening state of insecurity in the country.
He added that this gesture was aimed at adequately securing Benue and preventing the nasty experiences meted out to the Agatu people and several parts of Tivland.
Akor lauded the spirit of accommodation in his community and urged that the communities dwell in peaceful coexistence and not in hostility.
"The spirit of accommodation in this community is buttressed by the presence of the Fulanis and the Sarkin Hausawa of Benue South Senatorial District at my residence to celebrate the new year," he said.
He, however, decried the deplorable state of the road passing through Ogoli-Ugboju, leading to Onyagede and Ankpa in Kogi.
He called on the anti-graft agencies to investigate the award of the contract for repair of the road.
Akor said several people, including pregnant women, had died as a result of the delay in accessing medication due to the bad condition of the road.

Load more