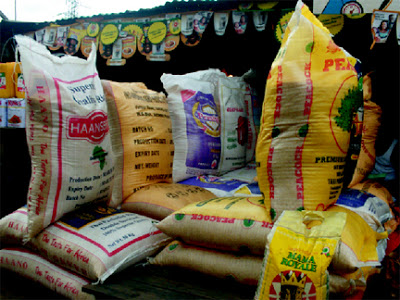 Prices of locally produced rice have shot up by more than 20 per cent in Hadejia, Jigawa.
Checks at Hadejia and Malammadori markets showed that prices of the commodity have increased significantly in spite of the steady supply of the foodstuff.
A 100-kilogramme bag of local rice now sells for between N29,000 and 36,000 as against its previous price of N26,000, respectively.
A measure of the commodity now sells for between N700 and N900, depending on its quality, as against its old price of N600 and N750, respectively.
Price of beans has also shown similar hike as a measure is sold at N600 as against N500 before.
However, prices of imported rice had indicated a slight decrease, as a 50-kilogramme bag of the commodity now sells at N17, 500 and a measure for N1,020 as against its old price of N18,000 and N1,100, respectively.
Similarly, prices of tomatoes have crashed following improved supply of the commodity, as a basket is sold at N3,200 as against N18,000 in the past.
Traders at the market attributed the hikes in prices of rice to growing demand for the stuff.
Alhaji Baba Shehu, a grain dealer, said that prices were moving up on daily basis in view of the growing demand for the commodity.
Shehu attributed the situation to a drastic drop in the importation of rice into the country, adding that the trend had encouraged local production.
"We are witnessing price increase on daily basis due increase in the demand for the local variety of rice," he said.
Also commenting, Malam Danladi Yusuf, a resident, described the situation as worrisome, adding that rice was beyond the reach of the ordinary man.
Yusuf noted that he preferred local rice but that its high price was a source of concern to the consumers.
Another resident, Malam Isa Gabi, urged the government to adopt practical measures to control inflation and regulate prices in the country.

Load more