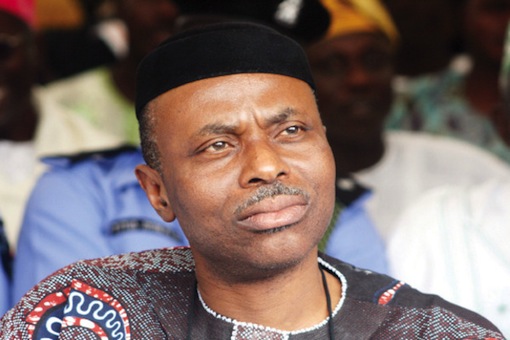 The All Progressives Congress in Ondo State has accused Governor Olusegun Mimiko of planning to divert N1.5 billion in grants from foreign donors to phony contracts.
APC, in a statement issued by its Publicity Secretary, Mr Abayomi Adesanya, in Akure on Saturday said the money was the accumulated foreign grants to Ondo State Wealth Creation Agency (WECA) and Multilateral Relation Department.
"It has come to our knowledge, on good authority, that Ondo State Government, two days ago, specifically Jan. 4, 2017, took receipt of the N1.2 billion physical cash being amount deposited into the account of the Multilateral Relation Department of the Governor's Office as accumulated grants from foreign donors.
"Confirmed information also shown that another sum of N385 million was credited into the account of the Wealth Creation Agency (WECA) of Ondo State.
The APC said it was sad that unpatriotic and unscrupulous elements within the highest echelon of the outgoing government had activated nefarious plans to siphon the money into private accounts.
"To perfect this plan, arrangement had been made to transfer the N1.2 billion to WECA which has been designated as exit point for the monies.
"Already, high level civil servants in the two departments have been mobilised to begin processing of phony contracts award papers to perfect the looting spree of the total sum of N1.585 billion."
Adesanya described the act as callous and sabotage by some individuals in government to steal public funds as valedictory gifts to themselves and warned civil servants of the consequences of such act.
"Ondo APC wishes to direct the attention of Gov. Olusegun Mimiko to this and to emphasise the need to arrest this heinous crime before it completely tarnishes him in the dying minutes of his tenure.
"We also wish to point out to the Governor that all accusing fingers are pointing at him considering the fact that the two agencies are directly under his supervision.
"And now that this massive looting plan has been uncovered, civil servants, particularly the relevant officers at WECA and Multilateral offices are seriously warned not to cooperate with the outgoing Mimiko administration to defraud Ondo State.
"Gov. Mimiko, his political appointees as well as civil servants should be put on notice that already the incoming government of our party is in possession of past, current and daily records of financial misdeeds of high elements of the outgoing government.''
Reacting to the allegation, Mr Kayode Akinmade, state Commissioner for Information and Strategy, disclosed that the allegation was "frivolous and a falsehood.
"The allegation is frivolous and falsehood and I challenge the party to provide facts on this allegation.
"APC will take over government in Ondo State on Feb. 24, they should wait till then. As at now, Dr Olusegun Mimiko is the governor of Ondo State and he has the right to take decision(s) about the state.
"APC cannot tie the hands of the governor from performing his statutory functions,'' Akinmade said.

Load more