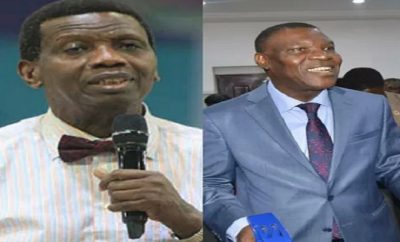 Some Christians on Saturday described the appointment of Pastor Joseph Obayemi, as the Overseer of the Redeemed Christian Church of God (RCCG) in Nigeria, by Pastor Enoch Adeboye, as one based on Godly intuition.
They expressed their views in interviews with the News Agency of Nigeria (NAN) in Abuja.
However, Pastor Adeboye, remains the General Overseer (GO) of the RCCG Worldwide, while Obayemi would head the church in Nigeria.
Mr Godswill Iredia, an RCCG member, called on Christians not to see the appointment of Obayemi, as a sentimental one, "but as one that would glorify God''.
Iredia, however, noted that there were pastors from other Nigerian tribes currently holding senior positions in the RCCG in other countries outside Nigeria.
"On insinuations that only one tribe was fit to hold positions of authority in the RCCG, we have pastors outside the country that are from other tribes, who hold top positions in the church.
According to him, Pastor Agu Irukwu is the Chairman of the Board of Trustees and Head of the Executive Council of the RCCG in the UK.
"He is also a Special Assistant to the RCCG General Overseer, a Member of RCCG's World Advisory Council, Regional Pastor of RCCG England, and Chairman of the RCCG's Regional Board in the UK.
"Irukwu also serves as Senior Pastor of Jesus House for All the Nations, a London Parish of the RCCG established in April 1994.
"He is also Chairman of the Board of Trustees and Head of the Executive Council of the RCCG in the UK, which acts in a supervisory capacity over the 600 parishes in Britain.''
Miss Keturah Sankey, also an RCCG member, said she would miss Pastor Adeboye because he may no longer be as visible as he was when he was RCCG General Overseer and Head of the church in Nigeria.
Sankey noted that Adeboye would now concentrate on supervising the RCCG's activities in the 192 countries where the church had branches and parishes worldwide.
"I will miss Daddy Adeboye but because the God of Elijah is the God of Elisha, nothing is spoilt; the Church of God is marching on.
"Our GO has only retired as GO for the RCCG in Nigeria; there are branches and parishes in 192 countries of the world; he is still the GO of the RCCG worldwide,'' she said.
Mr Kayode Ajiga, another church member, said that Adeboye would always remain a rare gem and be in a class among his peers, adding that he was in charge of money, but he used it to build the church.
Ajiga noted that it was a good thing that he comfortably handed over to one of his "sons, to continue from where he stopped''.

Load more