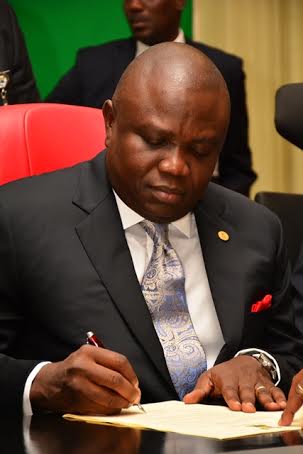 Lagos State Governor, Akinwunmi Ambode on Monday signed the 2017 budget of N812.998 billion into law.
Signing the budget passed by the State House of Assembly last week at the State House, Ikeja, Ambode said the signing of the budget was in line with the State Development Plan 2012-2025 and the Medium Term Expenditure Framework for 2017-2019.
"Our goal is to consolidate on the modest milestones recorded in the last 18 months and propel our State to a path of prosperity in line with our four pillars of development plan. These pillars of our State Development plan are: Infrastructure Development, Economic Development, Social Development and Security and Sustainable Environment.
"We are optimistic on the recovery of our national economy this year. We are encouraged by the budget performance of last year (2016) which stood at 78%. Our total Capital Expenditure in 2017 will be N507.816bn while Recurrent Expenditure is estimated at N305.182bn.
"Our government is committed to prudent financial management and equitable allocation of resources for the general good and will ensure proper fiscal discipline in the implementation of this Appropriation Law," he said.
Ambode added that to successfully implement this budget, government needed the cooperation and understanding of all taxpayers, saying that civic obligations and duties of citizens like tax payments had become noticeably better, self-induced and encouraging, just as government strove harder to improve service-delivery in all sectors.
"We encourage all tax payers to continue in this spirit and also take advantage of available multi-pay channels in fulfilling their civic obligations. Do not pay to touts or illegal channels. Make sure your tax payments count. We are doing everything to eliminate poor services to you," he said.
-Kazeem Ugbodaga

Load more