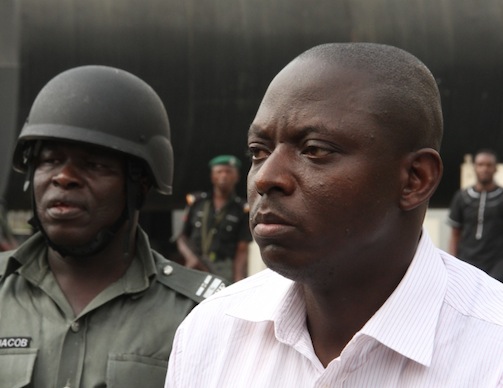 A Federal High Court in Lagos on Monday adjourned the trial of a former Director-General of NIMASA, Patrick Akpobolokemi and five others, till Feb. 28.
In his ruling, Justice Ibrahim Buba adjourned the case for cross-examination of the last prosecution witness.
Buba expressed regrets on the adjournment on the grounds that he had ensured his punctuality in court to attend to the sole case on his diary even though the day marked his birthday.
"I am 59 years old today, and I am here in court, prepared to go on with the matter, hoping we would make progress.
"If I had this idea that the court will not sit, then, I wouldn't have bothered.
"This is the only case listed in my diary for the week, and I came here in the hope that there would be a remarkable progress," Buba said.
Akpobolokemi, a former chief at the Nigerian Maritime Administration and Safety Agency (NIMASA) and fiver others were arraigned on a 22-count charge by the Economic and Financial Crimes Commission (EFCC).
The accused persons allegedly converted to their own use N2.6 billion between Dec. 23, 2013, and May 28, 2015.
The other accused persons were Captain Agaba, Ekene Nwakuche and Governor Juan, Blockz and Stonz Ltd, Kenzo Logistics Ltd and Al-Kenzo Logistic Ltd.
The offences contravened sections 15 (1), 15 (3), and 18 (a) of the Money Laundering Prohibition Act, 2012.
The trial of the accused was earlier slated for Jan. 9 to Jan. 13, for the defence counsel to cross-examine the 11th witness for the EFCC, Chukwuma Orji, and for the continuation of trial.
However, on Monday, the witness, was unavoidably absent from court, following his trip to the United Kingdom with the Acting Director-General of EFCC, Ibrahim Magu, for a meeting with the National Crime Agency.
Counsel representing the prosecution Marcel Umeh informed the court that he got the information very late, adding that all inconveniences were regretted.
In response, one of the defence counsel, Mr. Edoka Onyeke, expressed dissatisfaction with the adjournment and prayed the court to issue a date in February that would be convenient to all parties.
Other defence counsel aligned themselves with the submissions of Onyeke.

Load more