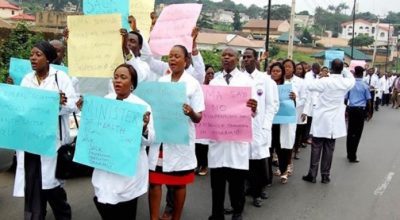 Baring any last minute intervention by the Rivers State Government, medical doctors in Rivers State will start an indefinite strike today to press home their demand for improved health facilities and adequate manpower.
The aggrieved doctors under the aegies of the National Association of Government Medical and Dental Practitioners in Rivers State said they are embarking on strike to protest the state government's refusal to employ doctors and health personnel.
Dr. Sofiri Peterside, who spoke on behalf of the aggrieved doctors said the strike is the only avenue left to press home their demands.
Peterside disclosed that doctors had earlier given a 21-day ultimatum that elapsed on January 9, 2017.
The doctors also claimed that some medical practitioners' gratuities and pensions were not fully paid and the government refused to implement the new salary structure.
According to him, "For over six years now, starting from the last administration, we have been complaining and writing to government on the same issues.
"We are saying that government should expedite action on the implementation of the new salary structure. That government should improve on the poor condition of the health centres.
"You need to visit the health centres and see what looks like an empty hall. Government must employ more nurses and doctors. You can imagine that government has only three consultants and six surgeons.
"Many of medical practitioners retired without being promoted. We want these issues to be look into. It is not only when we take to the streets that government should listen to us. That is why we are giving them this period to take decision or face strike action."
Okafor Ofiebor/Port Harcourt

Load more