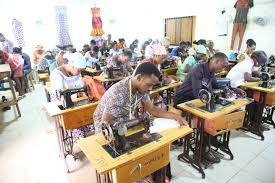 The Kaduna Central Prison has trained 60 inmates in tailoring and Information and Communication Technology, the state Prisons Controller, Yazid Alhassan, has said.
Alhassan said on Tuesday in an interview with the News Agency of Nigeria [NAN] in Kaduna that the training was quarterly and in batches.
He said that the training would cover other skills this year, to prepare the inmates with relevant skills to earn a living after serving their release.
According to him, the training, conducted with the support of Kaduna State Government, is a major step in the rehabilitation of the prisoners, who before now were doing virtually nothing to upgrade themselves.
"At least it has given us a relief, unlike when the inmates have noting doing. An idle mind is a devil's workshop."
He commended the intervention of the state government in initiating the skills training programme for the inmates and urged other states to emulate the gesture.
The controller, however, expressed concern over the capacity of the prison, stressing that it has been overstretched.
According to him, the holding capacity of the prison is 450 inmates but now has a total of 1, 300 prisoners.
"Right now we are housing more than 1, 300, and the number is increasing every day. Some are just coming in for the sake of eating, they believe that they can have three square meals here unlike when they are outside the prison."
Alhassan, however, said that the government and judiciary had taken measures to decongest prisons across the state through periodic review of cases.
He said that the review had facilitated the release of some inmates who were in prison for failure to pay fines, perfect their bail conditions and other issues.
The controller disclosed that a total of 110 prisoners were released in 2016 through the exercise.
"All the fourteen formations we have in Kaduna state were visited by the committee on prerogative of mercy, so i believe the state government is doing very well as far as support to prisoners and the Nigeria Prison Service is concerned."
Alhassan disclosed that the there were more than two thousand inmate locked up in the 14 prisons across the state.
He appealed to the state government to assist the 14 prisons with vehicles to help in conveying those awaiting trial to courts.
"One of our major challenge is logistic, the Federal Government cannot cater for all these.
"The police makes arrest and those arrested end up in prison and we have to escort them to courts.
"But the number of vehicles we have cannot cater for all the courts, our major problem now is logistic, so our prayer is that the government should help us.
"We need more vehicles than any other organisation, you find a prison covering about seventy court but with only one vehicle.
"Just like what is happening in Zaria Prison, they have only one vehicle covering about fifty courts."

Load more