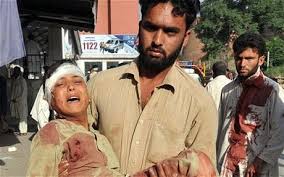 Afghanistan Health Ministry official said 25 people were killed while eyewitnesses said 70 were wounded in Tuesday's suicide attack near the Afghan parliament building in Kabul.
Wahidullah Majroh, Afghanistan Health Ministry spokesman said the casualty figures from the attack, which had been claimed by the Taliban, could rise as officials were still gathering information.
Majroh said more than 13 people were transported to hospitals across Kabul.
The spokesperson said the bombers targeted the Afghan spy agency's "5th Directorate minibus and gathered hirelings in the Darul Aman area.
"Eyewitnesses indicate the casualty toll of dead and wounded in twin blasts on parliament offices could be as high as 70.
Ahamd Saboori, Head of Police in District 7 of Kabul, said a Toyota 4Runner full of explosives blew up near the parliament building.
He added that a second car blew up after security officials reached the area.
Taliban spokesman Zabihullah Mujahid claimed responsibility for the attack.
In a separate incident, a suicide bomber blew himself up in Lashkargah city, the capital of embattled southern Helmand province on Tuesday.
He killed seven and injured another six people in a home where a ceremony was being celebrated.

Load more