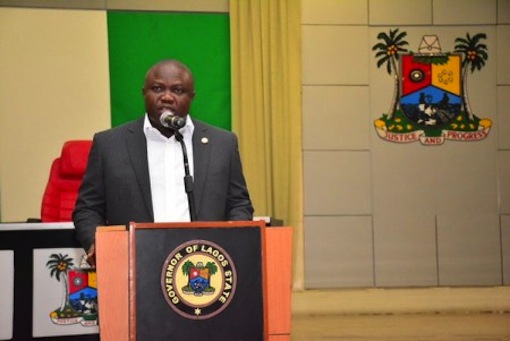 When Governor Akinwunmi Ambode of Lagos state delivered his epochal address at the Yoruba Tennis Club, Onikan in Lagos late last year, he reminded most history-minded observers about the vision of United States of America President, John F Kennedy when he was hosted by a joint session of the Congress on May 25, 1961.
The US leader told the lawmakers of his ambitious dream to send an American to land on the moon before the end of that decade.
It was a tall order because the world had only known of the unmanned Sputnik shock of the Soviet Union in 1957 and the feat of the cosmonaut Yuri Gagarin who became the first man in space on April 12, 1961. He orbited Planet Earth to the consternation of the whole world. But now Kennedy was daring to overthrow that record with the goal of making man walk on the moon before 1970.
His dream became a reality on July 20, 1969 when US astronaut Neil Armstrong stepped off the Apollo spacecraft onto the moon's surface, scoffing those who mocked Kennedy as a daydreamer, turning the joke on those who said his plan was doomed to fail.
Now, watchful Nigerian commentators are beginning to draw a comparison between Ambode's yearning projection to make Lagos the third largest economy in Africa and Kennedy's wild aspiration to take man to the moon. Both are transcendent ambitions that bring forth the ability of great leaders to overcome challenges that come with far-fetched dreams and visions.
But then, what is a leader if he does not raise the bar of governance and administration if they don't forsake old benchmark to create new ones.
A purposeful leader must be marked by his knack to dream dreams with both eyes opened while others are snoring in sleep and allowing the world to go by in its settled state. A good leader would harness available resources, even if negligible, and bring into being new resources needed to create a fresh order thought to be unrealizable by those given to pedestrian thinking.
That was what Ambode did when he presented his vision of the Lagos of the near future to members of the Yoruba Tennis Club 2016 Christmas Eve Dance. This is how he summed it: "We are committed to making our State globally competitive because by virtue of our indices. Lagos State has become a major City-State in the world. We are Africa's fastest growing market and still the 5th largest economy in Africa with a GDP of $91billion. The drop in our GDP value from $131billion is as a result of the fluctuation in Foreign Exchange but our ultimate goal is grow our GDP to move from 5th to 3rd largest in Africa."
There is no magic to how it can be achieved just as there was no magic related to man's conquest of the moon after the idea was broached to a disbelieving world.
With a GDP of $91billion dollars, Lagos is at the moment the 5th largest economy in Africa. It surpasses that of Ghana whose GDP is $38.6billion dollars. It is also bigger than those of a couple of Sub-Sahara nations put together. Lagos also has a population estimated at 24million, which again exceeds the total figure for a number of African and European countries. It is instructive to state that some 15.2million of these residents are in the bracket of the productive force, which puts Lagos as the state with the largest share of the working population down the Sahara. The state is also home to 65% of Nigeria's business, hosting over 2,000 manufacturing companies, 200 financial institutions and the largest collection of small and medium enterprises in Africa.
These are formidable statistics a visionary leader can wield to take the society to the acme of social and economic transformation. In the hands of an ordinary leader, they do not conjure a potential for radical greatness. But it is different with Governor Ambode. He is exploiting these facts and figures to call into being a Lagos that would leap into the league of the world's major city-states like California and New York, both in the United States of America.
The point I am making is that it takes a man with an Olympian mind with objectives that go beyond the ordinary to harness latent advantages into progressive reality even with all its corresponding challenges. For instance, planning revolutionary changes for Lagos brings with it numerous concerns such as infrastructure renewal, human capacity building and insecurity that come with a burgeoning population of immigrants seeking economic opportunities. These are by-products of urban development and the landing of a 24 hour economy Ambode is working out.
The Governor isn't scared by the change to come. Indeed he is backing his vision with generous but pragmatic budgetary provision. He has improved on the capital-recurrent ratio in the 2017 Appropriation Bill just passed into law by the State House of Assembly. For the empowerment of the citizens, he is focusing on employment generation, youth emancipation and vocational training. The budget also plans to build what he has described as "world class infrastructure" to position Lagos as the 3rd largest economy in Africa.
He is also reforming the solid waste collection and disposal profile to achieve the vision of a cleaner Lagos. Transportation has been schemed for upgrade with the government leveraging on water transportation in combination with rail and road networks for an integrated system that will reduce travel time and earn Lagos the tag of a 24 hour economy.
Of course tourism has been identified as a key component of the agenda to diversify the Lagos economy, using Badagry, Lagos Island and Epe as hubs. In 2017Ambode has set aside N20billion for these tourism projections.
Ambode told members of the Tennis Club that these strides of development would be heavily secured by a growing investment in power generation and distribution and more spending on security.
And going by the success of the eight days, five centers, Lagos fiesta that dramatically changed the social landscape of the state during the end festive season, it is clear from the Governor's presentation that truly he has an achievable vision required to move Lagos from its present stage to a higher level befitting its name, first as the former capital of the giant of Africa and secondly as the economic power house of the Sub-Saharan region.
Now that the 2017 budget has been signed into law, with the ambitious and plans embedded in it, there is no doubt that the governor and his team are ready to hit the ground running to make this year a better one than 2016.
Anibaba, an economist, wrote from Gbagada, Lagos.

Load more