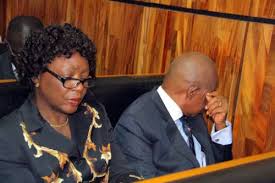 The Federal Government has amended the initial gratification charges it preferred against a judge of the Federal High Court, Justice Adeniyi Ademola, and his wife Olubowale.
With the amended, a Senior Advocate of Nigeria, Mr. Joe Agi, whom the prosecution accused of giving N30m gratification to Justice Ademola through the judge's wife, has now been joined as a defendant.
The judge allegedly received the N30m gratification through his wife from Agi in three instalments of N10m each between March 11 and March 26, 2015.
The defendants have thus increased to three and the number of counts also raised from nine to 16.
One major fresh counts added to the charges is that Justice Ademola allegedly held the sums of N54m, $171,779, €4,400 £80 and R1,010 "being gratification received in the exercise of your official functions as a judge of the Federal High Court of Nigeria".
The sums of money were allegedly found in the judge's house during the raid by the operatives of the Department of State Service on October 7, 2016 PUNCH reports.
The judge was thus accused of "holding gratification contrary to section 24 of the Corrupt Practices and other related offences Act 2000 and punishable under the same section of the Act."
The three defendants pleaded not guilty to all the 16 counts when read to them before a High Court of the Federal Capital Territory, Maitama, Abuja, on Wednesday.
The court on Wednesday fixed January 16 (Monday) for commencement of trial.

Load more