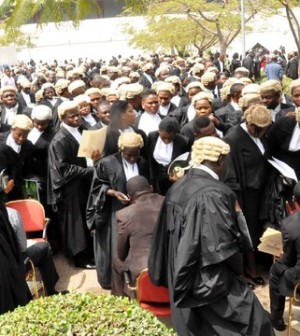 The Nigerian Bar Association (NBA) on Wednesday strongly condemned the gruesome murder of some Nigerians in Southern Kaduna, describing it as a violation of human rights of citizens living in the communities where the carnage was carried out.
In a statement signed by the NBA President, Abubakah Balarabe Mahmoud, SAN, the lawyers averred that there could never be any justification for the carnage.
"Recent events in Southern Kaduna leading to wide spread killings and maiming of innocent persons including women and children as well as destruction of properties. These latest unfortunate killings are only part of a series of attacks and disturbances in different parts of the country".
The NBA called on the Federal Government and Kaduna State Government to intensify efforts in bringing these killings to an end and finding a lasting solution to the crisis.
The association reminded all that security of lives and property is the primary purpose of government adding, "Yet peace and security has continued to elude us and has remained a raging issue on the front burner of national discourse.
"While we commend the recent efforts of the Federal Government and the Kaduna State Government in tackling the security challenges facing Southern Kaduna, we urge the governments to spare no efforts at restoring peace, security, law and order in the affected communities".
"The NBA supports security measures taken by the Federal Government. However, as in all theatres of conflict, we urge the security agencies to abide by their rules of engagement, which will ensure professionalism and respect for the fundamental rights of the citizens concerned and compliance with the rule of law.
"The NBA calls on the Federal Government to take all necessary steps to investigate the remote and immediate causes of the Southern Kaduna Crisis with a view to finding lasting solution and bringing the perpetrators to justice.
"We also enjoin the Government to compensate the victims of the crisis and ensure adequate care to displaced families and other victims".
"The Nigerian Bar Association expresses its sympathies to the victims of this crisis and calls on community leaders to encourage peaceful co-existence and religious tolerance among Nigerians living within and outside Kaduna State. We call on all parties to the crisis to eschew violence and hateful rhetorics that feed and fan embers of ethno-religious crisis in Nigeria", it concluded.
Gbenro Adesina/Ibadan

Load more