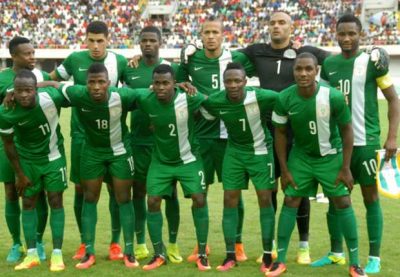 Nigeria's Super Eagles are starting the year as the 50th placed team in the FIFA World Rankings.
According to the rankings table on the website of the world football governing body on Thursday, Nigeria broke into the first 50 by displacing Burkina Faso who went down by three spots.
The Super Eagles are able to garner 619 points as against 616 it had in December 2016.
The one spot movement has, however, placed the team as the 7th team in Africa behind Senegal, Cote d'Ivoire, Egypt, Tunisia, Algeria and DR Congo respectively.
On the global scene, the top 34 positions remain unchanged with Argentina, Brazil and Germany still holding first, second and third place, respectively.
With only 12 Grade A matches played since the final rankings in 2016, there are few big changes in the January edition of the ranking.
But in spite of the overall stability of the January table, two new teams have broken into the Top 50, Saudi Arabia (48, up 6) and Nigeria (50, up 1),
They moved up at the expense of Albania (51, down 2) and Burkina Faso (53, down 3).
With the biggest move by both points and rankings, Suriname (128, up 22) are January's best performer.
In spite of their recent improvement, the CONCACAF team are still some distance from their best ever position (84), recorded back in 2008.
The small Southern African nation of Swaziland, meanwhile, reached its best ever position in the World Rankings (99, up 1).
The next World Rankings will be published on February 9.

Load more