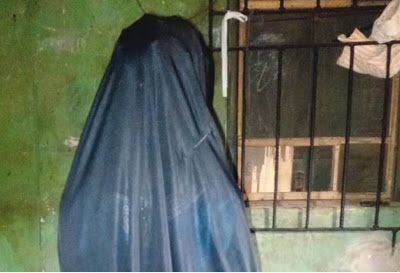 A six-year-old girl named Mariam has narrated in chilling details, how the son of her school's proprietress, Sirotullahi Abdufatahi, 21, raped her 7 times.
Little Mariam attends a boarding school at Iju, Ogun state called Medinat Al Munawarat Islamic Nursery and Primary School. She is Basic One and her mother Sola (not real name) is a widow.
According to Punch, Sola had to send her only child Miriam to the boarding school at such a young age because it was run by people in her religion, and she believed she could get the right education and care as she worked to cater for her.
Sola had no inkling anything was wrong with her only child when she was brought home on holiday
during the Yuletide. She had no idea about the abuse her daughter had been suffering in the school.
Until the week Mariam was supposed to resume school for the year, she was at her big aunty's house when she decided to share with her cousin, a girl about her age, her "school stories".
In the story, she told her little cousin how Uncle Sirotulahi would come to their room on some nights, pulled her out of the bed she shared with other girls who are boarders in the school and told her to pull down her pant.
Punch reports that when they interviewed Mariam in the presence of her mother, it became clear that she knew exactly what she was saying.
Wearing a long hijab, and speaking English smartly, the child played on her mother's couch, scampering from one point to another innocently, until her mother asked her to keep still. There was no doubt that Mariam was a happy child.
When Punch asked about what her "uncle" did to her, she asked,
"Do you mean Uncle Sirotullahi that usually came to remove my pant in our room?"
When she got a nod in reply, the little girl started talking.
"Uncle Sirotullahi usually came to our room where we sleep. When they switch off the light, he would come and pull me from the bed. Then, he would pull down my pant and also remove his own trousers. He always bring out his thing and put it in my 'bum' here (pointing to her crotch). Sometime, he would come into the room and take another girl," she said.
As she narrated this, she looked up with concern at her young mother who quietly sobbed.
Asked how many times this happened, Mariam counted her fingers as if to remember and said seven times.
Her mother's hope was dashed.
"I did not imagine something like this could ever happen to my daughter in that school," she said.
Mariam's alleged abuser, Sirotullahi Abdufatahi, had warned her never to tell anybody, in fact threatening her that she was going to die if she told her mother.
Abdufatahi, 21, is the son of the school proprietress, Mrs. Modinat Ashafa.
According to Sola, she had known the school proprietress and mother of the suspect (Ashafa) since she was younger and she was a student of the woman at a point.
She said she neither noticed anything was wrong with her daughter when she bathed her and neither did the girl complain about any discomfort.
Sola said,
"I realised the last abuse might have taken place long before their holiday, maybe that was why I did not notice any physical discomfort at the time she came home.
"Immediately my aunty told me what my daughter told her own daughter, I examined my daughter and was shocked by what I saw. It was obvious the hole I saw there did not come there during one encounter.
"I rushed to the school and confronted the proprietress. Rather than invite his son to ask him questions, she picked up her phone, called and asked him if it was true he was raping the girls he taught. Of course, he denied it.
"I then took my daughter to a hospital where some doctors examined her and confirmed what I already knew. She was only examined, they did not test her for diseases. The doctors said she had indeed been defiled."
The suspect is currently in Sokoto State.
They contacted Ashafa (suspect's mother) and she categorically begged for the case not to be reported. At a point, she sobbed, asking that she would do whatever was needed to appeal to the family of the girl.
She said,
"When I was informed about the case, I called my son and he denied it. He is currently in Sokoto where he is schooling. He is not 21, he is just a 15-year-old secondary school student. I was confused when he denied the accusation because I did not think my son would lie.
"He was at home for holiday at the time he allegedly raped the girl. When he came, because we do not have enough teachers, I told him to help out by teaching the lower classes. I have been operating this kind of school for over 27 years.
"My son swore that he knew nothing about it. I don't know what to do. Truly, the mother has told me about her visit to the hospital and about how much she needs to pay for treatment and tests on the girl but I have no money. I have been very broke. I told her that she should be patient with me and that I would find the money. I can only beg her. If it is about money, I will find money."

Load more