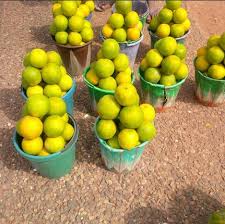 Some orange sellers at the popular orange market at Mararaba, Nasarawa State on Sunday decried scarcity of oranges, attributing it to transportation and strike by wholesalers nationwide.
However, orange dealers in Benue attributed the scarcity of oranges in markets to high cost of the commodity, transportation and multiple taxation.
According to some sellers and dealers in Lafia and Makurdi respectively, the problem began when indigenous farmers stopped the marketers from buying directly on their farms.
Mrs Sarah Obi, an orange seller, told NAN that the incident became a surprise to her when she noticed fewer bags of oranges at the market on a market day.
"I was just surprised when I came to the market for oranges, only for me to discover that there were just few bags of oranges.
"On enquiry, I was told that there is a misunderstanding between our distributors and the farmers where they used to buy oranges," she said.
According to Obi, a bag of orange before the incident was sold for between N3, 500 and N4, 000.
She said a bag of oranges was sold above N9, 000 and the cost of transporting oranges had also increased.
Corroborating Obi, Mrs Salamatu Mohammed said the problem later resulted to strike by the wholesalers of the farm produce, citing the payment of many charges.
"From what we have heard, the few marketers who can access oranges have to pay money at different points before they could bring their goods out from the farms.
"The indigenous farmers had formed union to make more gains from their farms and that is why they now block outsiders from accessing their farms.
"It could be that they are thinking that the buyers are making much profit from the produce," she said.
Muhammed, therefore, appealed to governments at all levels to step into the matter even as she observed that it has affected their own source of income.
Mr Ibrahim Shehu, who sells both oranges and watermelon, explained that indigenous farmers` new operational system had made it difficult for the orange dealers to cooperate with them.
According to him, the new system of transporting oranges by farmers to the market is the cause of the misunderstanding between farmers and sellers.
"You can imagine before you bring out your oranges even at the sale points to the main road, you will meet different charging points organised by the so-called area boys.
"This is difficult for the buyers and in addition, they also task vehicle owners and this make the price of oranges to be so high, " Shehu said.
Mr Tertseagh Anongo, a dealer of oranges in Ushongo Local Government Area (LGA), Benue, said that orchard owners were insisting that they would sell a bag of oranges for N2, 000 as against N1, 000 which was the initial cost.
Anongo further stated that as a result of the hike in the price of the produce by N1, 000, dealers refused to buy because they said they could not break even.
Another orange dealer, Mr Aondowase Atim, also complained about too many taxes imposed on the produce in Benue and the cost of transportation.
However, he said that the amount paid on a whole per vehicle vary, stating that the least is N10, 000 and the highest is N47, 000.
''If a dealer buys oranges and load a lorry his total tax before he leaves Benue will be N47, 000 while the tax for a middle size truck is N27, 000 and a J5 or Boxer is N10, 000.
''This is outrageous and I can say that it is a deliberate policy to keep us out of business because the multiple taxation was not in the best interest of the masses,'' he said.
Mrs Dorcas Mnguter, also an orange dealer, said that another reason for scarcity of oranges was because they were not allowed to buy the commodity in 29.5 inches sacks.
She said owners of orchards were compelling them (traders) to buy oranges using 28 inches sacks.
Mnguter said it was not profitable for the traders to buy the produce in 29.5 inches sack.
However, some government officials who spoke on condition of anonymity promised that government would look into the matter.

Load more