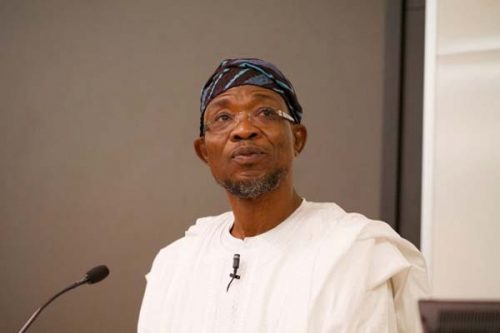 Aregbesola
Gov Rauf Aregbesola of Osun has described Chief Bisi Akande, former interim Chairman of the All Progressives Congress (APC), as an exemplary leader whose courage in public service has helped Nigeria.
This is contained in a 78th birthday congratulatory message signed by Mr Semiu Okanlawon, the media aide to the governor, in Osogbo on Monday.
Aregbesola said Nigeria's political history would be incomplete without adequate mention of the eminent roles played by Akande.
He said that Akande's tenure as governor in the state was remarkable, with his selfless service to the people and transparency in governance.
"Chief Bisi Akande is a democrat of no small status when the history of democratic struggles in Nigeria is written.
"He was one of those who fought to ensure that the military retreated back to the barracks and he never looked back while the struggle lasted.
"His emergence as the Governor of Osun in 1999 proved to be one of the best things to have happened to our state.
"In saluting the courage of this eminent elder statesman, we must not fail to recognise his roles in the conception and actual formation of our party, the APC.
"Chief Akande demonstrated an uncommon agility and vigour in all the activities leading to the successful birth of our party.
"Today, Nigerians can heave a sigh of relief from the 16 years of misrule that the PDP represented,'' Aregbesola said.
The governor, while praying for longer life for the politician, said his experience was still much required for the task of building a virile Nigeria.
The News Agency of Nigeria (NAN) reports that Akande, a former governor of the state between 1999 and 2003, was born on Jan. 16, 1939 in Ila-Orangun.

Load more