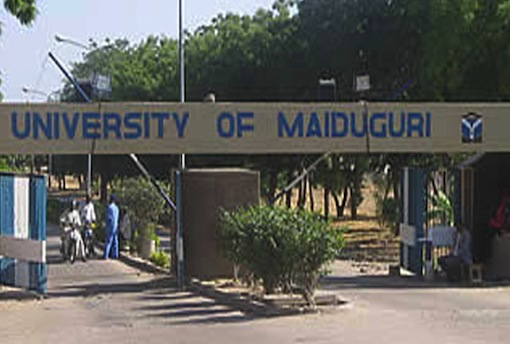 The Nigeria Army on Monday condoled with University of Maiduguri (UNIMAID) over the death of Prof. Aliyu Mani, the Director of Veterinary Medicine and four others who were killed by a suicide bomber in a Mosque.
The incident occurred around 5.45 a.m. on Monday at the senior staff quarters Mosque of UNIMAID.
Brig.-Gen. Victor Ezugwu, the General Officer Commanding (GOC) 7 Division of the army, gave the condolence when he visited the scene of the blast on Monday in Maiduguri.
He said, "we are here to sympathize with you on this ugly and sad incident and we want you not to be deterred in your endeavours."
Ezegwu added that the seven-year-old who perpetrated the act did not know what he was doing, stressing that "this is a boy that when you ask him to put his hand in fire, he cannot do it talks less of detonating himself with an IED.
"We want to appeal to the Muslim community not to be deterred. Same incident like this had occurred in Damboa where Muslims were jam-packed and a suicide bomber detonated his explosive.
"But I told them that this is the spirit; the Boko Haram terrorists want to scare you away. They want us to be afraid, they want us to live in fear.
"The same thing happened here. We shouldn't let this affect our faith and trust in God.
"We are going to speak with the civilian JTF and the security; we also want to look at the factors that led to this ugly incident with a view to forestalling future occurrence."
Meanwhile, Alhaji Muhammad Tanko, the Director, Public Relations of the university, said: "all exams and classes had been suspended because of the ugly incident."
Mani was the second Professor from the Faculty of Veterinary of the university that was killed by Boko Haram attack since the insurgency begun in 2009.
Born in Katsina town on April 11, 1957, Prof. Mani attended Kayalwa Primary School, Katsina (1964-1970), proceeded to Government College Kaduna (1971-1975) and went to School of Basic Studies, ABU Zaria (1975-1976).
He got admission into the Faculty of Veterinary Medicine, ABU Zaria and graduated with
Doctor of Veterinary Medicine (DVM) in 1981.
He did his NYSC with School of Agriculture in Asaba, worked briefly with Niger Basin Development Authority in Ilorin, Kwara, before he proceeded to University of Maiduguri as Assistant Lecturer, Department of Veterinary Medicine in October 1982.
The late professor attended the Centre for Tropical Veterinary Studies, Edinburgh, UK,
(1984-1985), where he got his Masters and later got his Ph.D. in the same school and returned to Maiduguri in 1994.
He was a Fellow of the College of Veterinary Surgeons (2010), Director of UNIMAID Veterinary Teaching Hospital (1997-2000), Head of Department (2005-2010),
Acting Dean of Vet Faculty (2008-2010).
Until his death, he was the Director of UNIMAID Veterinary Teaching Hospital.
He left behind one wife and two children.

Load more