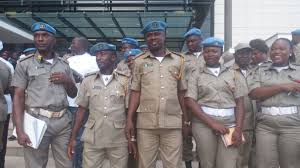 The Nigeria Peace Corps (NPC), Nasarawa State Command, has donated a wheelchair to, Mr Peter Abashi, who fell down from electrical pole in Wakama Area.
The Corps also donated N100, 000 on Jan. 1, for his medical check up.
Mr Bala Joshua, the state Commandant of the corps, made this known in Wakama, Akun Development Area of the state on Monday.
Joshua also donated N25, 000 to Mr Nicolas Abashi, elder brother to Peter to pay his children's school fees.
Nicolas children could not further their education due to the money he spent on his younger brother Peter.
The commandant said the corps assisted in securing the release of six inmates in Wamba Prison by paying their fines, and donated N10,000 for the upkeep of other inmates.
Joshua called on the inmates to be agent of change, and urged them to be law abiding while in the prison and after.
He assured of more support to the sick ones, the inmates and the orphans among other less privileged persons, and called on spirited individuals to aid the inmates.
Responding, Nicolas thanked the Corps for its support and pray God to reward them abundantly.
He appealed to spirited individuals to come to their aid, adding that life was no longer easy for them.
Those released from Wamba Prisons were Alex Sunday, John Peter, Abdullahi Umar, Ewuga Yahaya, Ogochukwu Sunday and Monday Zaka.
The Corps on Jan.1 secured the release of five inmates in Lafia Prison and donated N200,000 to the sick and orphans.

Load more