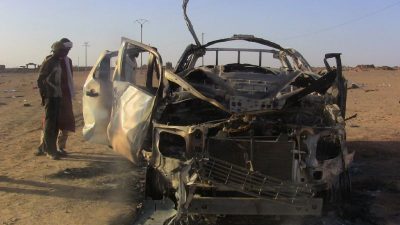 A suicide car bombing killed 47 people at a military camp in the northern Malian city of Gao on Wednesday, government spokesperson Mountaga Tall said.
The statement said the death toll included five suicide bombers.
The army confirmed the death toll and said 115 people had also been injured. About 30 of them were reported to be in critical condition.
A vehicle loaded with explosives blew up just as troops had gathered together, said Abdedoula El Kader Toure from the vigilante group Association des Jeunes Patriotes de Gao.
The vehicle was painted with army colours to allow it to pass unnoticed by security guards, according to army sources.
"The hospital is full and dismembered corpses can be seen everywhere'', local resident Arboncana Maiga said.
The Malian presidency said on Twitter that Defence Minister Abdoulaye Maiga was travelling to Gao and that the government had decreed three days of mourning.
The military camp houses government soldiers and members of armed groups, who stage joint patrols in the framework of a 2015 peace agreement.
A French military intervention in January 2013 turned back a jihadist and separatist insurgency in Mali's north, but various Islamist groups still stage attacks.
French President Francois Hollande, who attended a Franco-African summit in Mali's capital Bamako on Saturday, condemned the attack and reiterated France's support in implementing peace and reconciliation agreements in Mali.
The German Foreign Ministry said the attack was aimed at sabotaging the peace process in Mali.

Load more