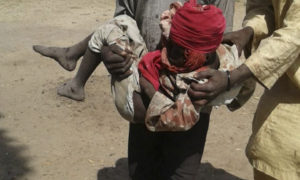 The death toll in the military air misfire on targeted Boko Haram location in Maiduguri has reached 70 civilians, says the International Committee of the Red Cross (ICRC).
ICRC sources in Maiduguri on Wednesday put the number of civilians killed at 70 during the military air strike.
The commander of Operation Lafiya Dole, Maj. Gen Lucky Irabor confirmed the incident in Maiduguri, saying that the military conducted airstrike on a location where Boko Haram were reported to have gathered.
"We got information that Boko Haram terrorists were gathering somewhere in Kala Balge Local Government. We coordinate our air component and strike the location but somehow, some civilians were killed," he said.
Gen Irabor disclosed that some civilians and two humanitarian workers from the International Committee on Red Cross (ICRC) and Medicine Sans Frontiers (MSF) were wounded in the incident which he described as disturbing. "Two of our soldiers were also wounded," he added.
He said the military has already sent helicopter to evacuate the wounded persons. He could not comment on whether or not the incident was a tactical error by the military. He said it was rather the cost of war, urging the people to work together to ensure peace return to the troubled northeast States. He said the military will investigate the cause of the problem.
"It is too early for us to determine whether it was an error or not. We have at no time targeted the civilians whenever we carried out our operations and wherever they are gathered," he maintained.
He said the military was yet to ascertain the number of persons killed in the airstrike, adding that the death of innocent person in the course of operation was rather disturbing to the military authority and the institution.
Responding to the attack, President Muhammadu Buhari, said he received with deep sadness and regret, the accidental bombing of a civilian community in Rann, Borno State, by the Nigerian Air Force, engaged in the final phase of mopping up insurgents in the North-east.
President Buhari condoles with families of the dead, wishes the wounded divine succour, leading to full recovery, and sympathizes with the Borno State government.
The President pledges federal help for the state government in attending to "this regrettable operational mistake," and pleads for calm, even as he prays God to grant repose to the souls of the dead.

Load more