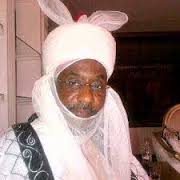 The emir of Kano Mallam Muhammad Sanusi II has called out wealthy northerners to stop building mosques and to stop early marriage of the girl child and start educating female children, since majority of these girls can barely read and write.
He made the call on Thursday in his keynote address at the 3rd international conference on Islamic Banking and Finance, organised by the International Institute of Islamic Banking and Finance, Bayero University, Kano.
"I'm just tired of people coming to me to say I want to build a new mosque. You know, we keep building mosques and our daughters are illiterates.
"So, my appeal is that if you really want to help Kano, don't come to me with a request to build a N300m mosque because I have enough mosques everywhere. And if I don't have a mosque, I'll build it myself. If you really want to help, go and educate a girl child in the village."
According to him, over 50 per cent of girls between the age bracket of 18 and 20 were given out in marriage in this part of the country.
He added that the worrisome dimension of it was that 75 per cent of them could neither read nor write.
Calling for a review of laws to prevent early marriage and encourage girl-child education, he said,
"It is not a mere coincidence that this is where you have the highest levels of illiteracy, early marriage, divorce and the highest levels of domestic violence…
"People need to understand that the law has to change. If you look at the medical data on maternal health, girls who get pregnant below the age of 15 are five times as likely to die as girls who get pregnant at the age of 20. Those who get pregnant under 18 are twice as likely to die as those who get pregnant at the age of 20. So, it is important that we look at this issue of early marriage." PUNCH reports.

Load more