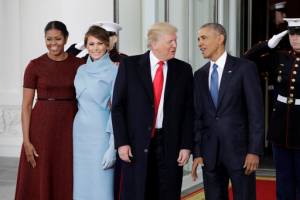 Outgoing President Barack Obama and wife Michelle on Friday received incoming President Donald Trump and wife Melania to the White House.
The outgoing president and the First Lady will host a tea and coffee reception with Trump and his wife, according to reports.
The pair will ride with their wives to the inauguration at Capitol Hill from the White House.
In the afternoon, the Obamas will attend the Inaugural Swearing-In Ceremony for Trump and the new First Lady, with outgoing Vice President Joe Biden and incoming Vice President Mike Pence and wife, Jill.
After the inauguration, Obama and wife will depart the U.S. Capitol en route Joint Base Andrews, where Obama will deliver remarks at a farewell event with staff.
Later in the afternoon, the Obamas will depart Joint Base Andrews en route Palm Springs, California.
Obama and his family will take one final flight on Air Force One to an as-of-yet-announced destination, which is customary.
As for the Bidens, the White House press office said that following the inauguration, they will travel back to Delaware on passenger Train.
Obama and Biden had earlier on Friday, left the Oval Office for the last time.
Obama was elected as the 44th U.S. president in a historic presidential election in 2008, defeating Republican nominee John McCain.
The two-term president was the first black American in history to be elected U.S. president.
The former Illinois senator, who won a re-election in 2012 for the second and last term, maintains an all-time high popularity rating throughout his presidency, which had been largely described as scandal-free.
Trump won the Nov. 8, 2016 presidency by electoral college vote, but lost the popular vote to Democratic Hillary Clinton by 2.9 million votes.

Load more