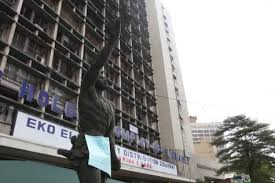 The management of Eko Electricity Distribution Company (EKEDC) on Sunday said the company planned to install 200,000 pre-paid meters for consumers in 2017 to end estimated billing.
Mr Oladele Amoda, the Chief Executive Officer (CEO) of the company, made the disclosure in an interview in Lagos.
Amoda said the company had signed an agreement with Mojek International, an indigenous smart meter manufacturing company, for the supply of over 100,000 meters in December.
"We also signed another agreement with Huawei Technologies Co. Ltd, an international company based in this country, to supply the remaining 100,000 pre-paid meters.
"We have already started metering consumers under our network with these meters.
"It is our responsibility to meter all consumers and we are looking at being able to deploy the 200,000 meters before the year runs out.
"The motive is to eliminate estimation of consumers billing by 2017," he said.
Amoda said the company had been on a metering programme since 2015 and would have metered all its consumers, but for some challenges confronting successful implementation of the scheme.
He listed inflation and increase in foreign exchange rate as challenges the company had to contend with.
"The economic situation of the country is slowing down the plan but all the same, we are metering our consumers on daily basis, " he said.
Amoda, said that the company installed over 100,000 pre-paid meters for its consumers in 2016.
He said that the company would ensure that it metered all consumers within the next two years, as the company was working within the five years framework given by the regulator.
The chief executive officer said EKEDC had over 600,000 consumers which include residential buildings, barracks, industries and government agencies.

Load more