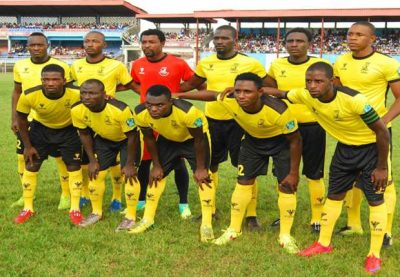 Wikki Tourists Football Club of Bauchi on Sunday at the Abubkar Tafawa Balewa Stadium in Bauchi defeated Akwa United FC 1-0 in a 2016/2017 Nigeria Professional Football League (NPFL) fixture.
Wikki Tourists recorded the lone goal in the 80th minute of the game through Harrison Madu.
Baba Ganaru, Wikki's Technical Adviser, in a post-match interview, said he was not surprised at the tough nature of the match.
"It was because Abdu Maikaba, the handler of Akwa United, was the former coach here at Wikki Tourists and knows the secret of the team,'' he said.
Ganaru said Wikki Tourists were still using the playing style they had under Maikaba and it was normal for him (Maikaba) to be able to contain them.
On his part, Maikaba described the match as "a wonderful match and I enjoyed it and I believe my former team was able to win because my present team lost concentration towards the end.
"But, actually, my players performed well. They lost only because they failed to utilise some goal scoring oportunities.
"And it is emotional that I came back to Bauchi to play a match and we will continue from there," he said.

Load more