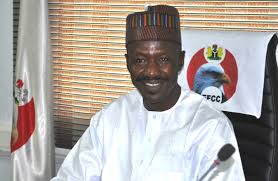 President Muhammadu Buhari has transmitted another letter to the Senate re-nominating Mr Ibrahim Magu as substantive Chairman, Economic and Financial Crimes Commission (EFCC).
The letter, titled: "Re-nomination of Mr Ibrahim Magu as Executive Chairman, Economic and Financial Crimes Commission (EFCC)", was read to the members by President of the Senate, Dr Bukola Saraki, at plenary on Tuesday.
The Senate, on December 15, 2016, rejected the request for the confirmation of Magu, citing security reports from the Department of State Security (DSS).
It thereafter returned the nomination of Magu to the President for further action.
In the letter, Buhari recalled the senate's letter dated 15 December, 2016 where it conveyed its resolution on the request for the confirmation of Mr Ibrahim Magu as Chairman of the EFCC.
According to the letter, the president has taken administrative steps to ensure the speedy clarification of issues relied upon by the senate in arriving at its decision.
"These steps included a request for the response of the nominee to the allegations contained in the report so as to ensure that the credibility of our anti-corruption campaign is not compromised or called to question.
"As the distinguished Senate will recall, the prosecution of the anti corruption war, in all aspects of our policy, is a programme which my administration has committed itself to, since our inauguration in May 29, 2015.
"In undertaking this campaign, we are guided by the need for urgency, consolidation and improvement of our present statutory framework for addressing the rate of corruption in our country.
"There is the need to maintain the current momentum and capacity of the EFCC.
"It is in the above context that I therefore request the gracious indulgence of the distinguished Senate to favourably accept my re-nomination of Mr Magu for the position of the chairman of EFCC.
"Mr President of the Senate, I make this request for the favourable reconsideration by this distinguished chamber against the background of the critical role of the Senate in driving the anti-corruption campaign of the present administration.
"This is through the proactive legislative agenda and adequate appropriation support for the important work of agencies such as the EFCC."
The President reassured the senators of his determination to continue to pursue synergy between the executive and legislative arms of government.
He also pointed out that the senate and presidency had a common mission to bequeath a more prosperous and value-driven country to future generations.
Meanwhile, the Senate Spokesman, Sen. Sabi Abdullahi, while briefing the press after plenary, said that the letter would be subjected to the legislative process.
"The key observation is the fact that the letter did not address the bulk of the security issues that were raised in the DSS report.
"The letter has been sent back to us indicating that Magu has been re-nominated. The Senate will deliberate and keep you informed on the next line of action in line with our legislative procedures," he said.

Load more