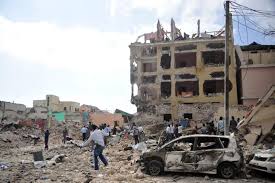 At least 18 people were killed when two vehicles loaded with explosives exploded near the entrance of a hotel in the Somali capital Mogadishu on Wednesday, security officials and police said.
The death toll included six attackers, one of whom blew himself up inside a vehicle and five of whom were killed by security forces.
The first explosion came from a truck directly in front of the hotel, while a second blast came from a bomb placed inside a car parked near the hotel, police officer Mohamed Dahir said.
Dahir added that after the blasts, fighters belonging to Islamist terrorist group al-Shabaab stormed the Dayah Hotel, which is popular among entrepreneurs and government officials.
Gunfire could be heard in the area.
"The toll is expected to grow because some people may be trapped inside the three-story hotel,'' said security official Mohamed Hassan.
The fatalities included government soldiers, private hotel guards and civilians.
Up to 35 people were wounded according to officials among those injured were four journalists and reporters at the site.
The explosions rocked the entire city and shattered dozens of windows in the area, witnesses said.
Cars parked near the hotel were damaged from shrapnel and the pressure of the blasts, they added.
"It is a busy area many people were dead, others were yelling for help after being wounded,'' shopkeeper Abdullahi Abdi said.
Al-Shabaab claimed responsibility for the attack immediately after the blasts on pro-insurgent radio station Andalus.
The group claimed its fighters killed people inside and outside the hotel.
Al-Shabaab, who is seeking an Islamist state in Somalia is affiliated with the international al-Qaeda terrorist network, attacks government facilities and hotels in Mogadishu on a regular basis.

Load more