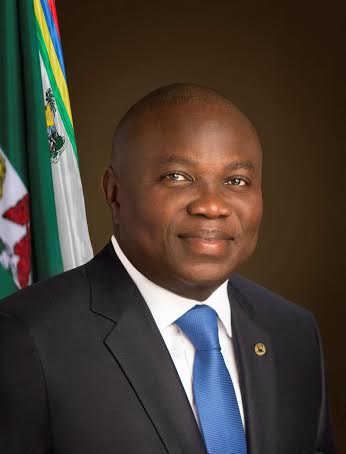 Kazeem Ugbodaga
The Lagos State Government on Thursday disbursed N1 billion to 705 beneficiaries to expand their small scale businesses as part of the N25 billion Employment Trust Fund, ETF meant to generate employment.
Lagos State Governor, Akinwunmi Ambode presented cheques to beneficiaries at the Blue Roof, Lagos Television in Ikeja, Lagos, Southwest Nigeria on Thursday, urging them to utilize the fund for the purpose of boosting the state's economy.
Ambode explained that during the course of his campaign, he identified unemployment as a major socio-economic challenge facing Lagos State and Nigeria as a whole and that in acknowledgment of this, he promised to prioritise job creation and set up an Employment Trust Fund to provide support to youths, entrepreneurs, artisans and other unemployed residents of Lagos State.
"Our role as the representatives of the people is to constantly find solutions to societal challenges and improve the lives of our people. Today, 705 beneficiaries will receive various amounts of money ranging from N50,000 to N5 million, totalling almost N1 billion to grow and enhance their businesses.
"We are funding businesses and individuals including carpenters, hairdressers, electricians, automobile parts repairers, block makers, bakers, fashion designers, cake makers, food sellers, kerosene retailers, mobile money agents, painters, plumbers, photographers and light manufacturers of liquid soaps and water," he stated.
The governor said for Small and Medium Enterprises, his administration had provided loans to people in hospitality, ICT, education, food and beverages and agriculture, saying that these beneficiaries were making history as the first set of beneficiaries of the ETF.
"My charge to you is simple: you must use these funds responsibly, grow your businesses, create jobs for our unemployed youths and contribute to the growth of the Lagos State GDP," he said.
He explained that the idea behind the scheme was that for every N1 million disburse, government expected the creation of a minimum of five jobs around that business value chain, adding that these loans had been provided at a very affordable rate of 5% per annum, making it far cheaper than the prevailing bank interest of 25% per annum.
According to Ambode, the disbursement of the fund was government's modest way of reflating the Lagos economy, creating jobs and getting the youths gainfully occupied, saying that this pilot scheme had selected beneficiaries from the 20 Local Governments and 37 Local Council Development Areas, LCDAs, and provided an opportunity for the fund to test its processes ahead of a full rollout next month, urging all Lagos residents, irrespective of their tribe, religion or gender to apply for this scheme as it was meant for everybody.
"We are particularly interested in supporting women and I enjoin our market women, female artisans and SMEs owners to take advantage of this opportunity. I also implore the Employment Trust Fund to pay special attention to the entertainment industry and the Tech hubs in Sabo, Yaba area. These are new areas with huge potential for growth and job creation," he said.
Ambode said his administration would continue to ensure that the process was transparent and unbiased as the ETF had engaged partners who had helped with the selection, verification and disbursement of the loans to beneficiaries.
He said the Board of the ETF had promised that it would support at least 100,000 micro, small and medium enterprises in due course, saying that he had full confidence in their ability to achieve this result, stressing that "we are starting that journey of supporting 100,000 businesses with the 705 beneficiaries here today."
Chairman of the Board of ETF, Ifueko Omogui-Okauru noted that the board had the mandate to empower 100,000 SMEs between now and 2019 and that in undergoing this, the female gender was seriously put into consideration in the disbursement of the fund.
She said the board received applications from different scale of enterprises across the state and that transparency was ensured in the selecting process, adding that the board's mandate was to cover the entire state and ensured that there was no discrimination of any form.
A beneficiary, Adetola Akintoye, Chief Executive Officer of Andy Clark Confections, a bakery outfit, said she got N5 million and that she would use it to expand her business, while thanking the governor for the gesture.

Load more